Concrete admixtures from the Master Builders Solutions portfolio can frequently be found at the very top of the mountains – like for example in the sculptures on the Timmelsjoch pass at 2,491 m between Austria and Italy.
It runs along the European Watershed and the border between Austria and Italy, as well as between the two mountain groups of the Ötztal and Stubai Alps. Centuries ago, an important trade route – then a simple mule track – already led over the pass. Today, one can traverse the top of the pass on the well-constructed Timmelsjoch High Alpine Road. Its operators have now thought up something quite special.
Surprise made of concrete in the High Alps
The so-called
Timmelsjoch Experience
consists of four architectural sculptures and a museum that are located within a few kilometers of each other along the road. The multiple award-winning South Tyrolean architect Werner Tscholl designed the spectacular exposed concrete structures. Building materials manufacturer Scheiber delivered the concrete for the works of art from the nearby town of Lengenfeld. The material was optimized with concrete admixtures from Master Builders Solutions: with the high-performance superplasticizer
MasterGlenium
SKY 584, the retarder
MasterSet
R 20, and the air-entraining agent
MasterAir
9060 for greater frost/thaw resistance in light of the harsh climatic conditions in the High Alps.
Special concrete properties for long, steep transport
The demands placed on the concrete were mainly related to the particular location of the building sites: Long transport routes required an extended workability of the material, the exposed concrete surfaces were supposed to be absolutely immaculate over the long term, and the steep roads presented an additional challenge. For the concrete not to slosh too far back in the mixing trucks, its final flowability was only set at the building site. To this end, for example, the concrete admixtures were already added in the concrete plant, but the total amount of water was only mixed in at the job site.

The four works of art and the museum were built between 2009 and 2011, whenever the weather allowed for it – it is not rare for the top of the Timmelsjoch pass to be draped in a layer of snow, even during summer.
The Timmelsjoch Experience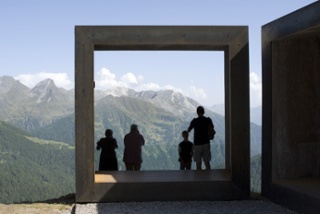 Walkway, Smuggler, Telescope, and Garnets are the names of the walkable sculptures,which simultaneously serve as showrooms and viewing platforms for visitors. They direct one's gaze to the cross-border history and culture of the region, but also to the breathtaking countryside that has shaped both. The exhibits blend in almost seamlessly despite their angular design and, in part, seemingly precarious statics: Walkway and Telescope jut beyond the steep slopes, and the museum appears as if it was balancing on the crest of a hill.
The road, and thus the Timmelsjoch Experience, is open daily from around early June to mid-October, from 7 a.m. to 8 p.m. A visit to the museum and the sculptures is included in the toll.