The construction industry is facing quite a number of challenges: The commitment to sustainable construction requires new solutions; the ongoing construction boom and the shortage of qualified personnel lead to tight job-site schedules; and ever-scarcer raw materials drive up prices. In the future, a new approach to construction is required – and concrete can have a vital part in tackling the challenges involved. Concrete is, in fact, one of the most valuable construction materials, and it has much more to offer yet. Tapping this potential requires powerful and innovative concrete admixtures. And it is precisely such innovations that the experts from Master Builders Solutions have been working on for years. Even though concrete admixtures account only for a small fraction of the overall concrete mix, they do have the potential to accelerate the entire construction process and make it more flexible, as well as lower costs and reduce emissions.
Broad portfolio of admixtures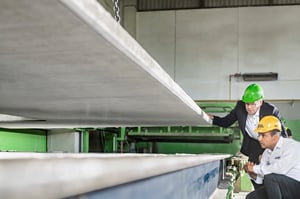 Our portfolio offers a wide variety of solutions to achieve all this. The hardening accelerator Master X-Seed, for instance, speeds up concrete hardening and makes the process up to ten times faster than in conventional concrete. This translates to huge time savings at construction sites and precast-concrete plants and enables the implementation of very ambitious time schedules. Moreover, our hardening accelerator improves the CO2 footprint and contributes to a more sustainable approach to construction. The problem of ever-scarcer resources, too, is at the focus of our experts' attention. They have found a solution for using clayey sands in the production of quality concretes – long thought unusable for this purpose. In this way, existing deposits can be utilized to a much higher degree. Labor costs can be reduced through concrete admixtures that yield highly flowable concrete: These simplify concrete placement to such an extent that the process can be handled by a single worker. This saves up to 40 percent of labor time. Also, mechanical vibration during placement is no longer necessary, which means that less noise is generated and vibrations harmful to workers are omitted altogether. Our new MasterEase product range optimizes the rheology of concrete by reducing its viscosity by up to 30 percent. This makes surface troweling much more straightforward – an enormous benefit in, for instance, precast-element production or the pouring of concrete slabs. This saves costs during each individual construction project, increases the utilization of vehicles and machinery, and reduces the wear to mixers, pumps, and piping.
Reduced costs and improved quality
Concrete manufacturers can reduce the likelihood of compensatory payments by opting for the MasterFinish curing compound. The product ensures a significant improvement in surface quality that will offer no reason for complaints.
Our highly competent Application Technology department helps our partners fully utilize the potential inherent in concrete optimization. This can also improve the sustainability of the concrete – as well as that of the entire building – to a significant extent and can be documented through EPD certificates.
Unfortunately, knowledge of the potential inherent in concrete and high-grade concrete admixtures has not yet fully permeated the market. Instead, there is a prevalent – and wrong – assumption that construction costs can be reduced by using inexpensive concrete admixtures. Accounting for only 3 to 5 percent of the overall costs of a concrete mix design, concrete admixtures aren't what makes concrete expensive, however. On the contrary, they can, in fact, reduce construction costs and increase efficiency.