The Technology for SLS by Master Builders Solutions supersedes conventional techniques by allowing easy processing and quick application of cementitious screeds. RAK-BUD, a Polish ready-mix concrete supplier, is thrilled by its significant benefits which include time and labour savings, reduced construction costs and an improved CO2 balance, while at the same time meeting the highest quality standards.
Waiting for the screed to dry is time-consuming and cost-intensive. Keeping ahead of the competition requires innovative solutions that have a positive effect on the rheology of the screed and thus enable significantly easier processing and extremely fast installation of the self-levelling screed. "Using the screed concrete with the innovative technology, we are entering a completely new market", explains Radosław Raczkowski, Co-Owner of RAK-BUD Company. "With this new solution, the application does neither require additional space on the job site nor extensive hands-on levelling of the top layer or additional sealing." The optimal flowability and prolonged workability of the concrete produced with the Technology for SLS from Master Builders Solutions allow fast construction progress, meaning that only three workers are required to cover 1,000 square meter surface. By using a traditional dry screed mix, five workers are needed to lay 100 to 150 square meters within one day.
A cleverly thought-out admixture package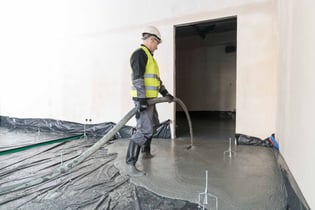 The uniqueness of the Technology for SLS lies in the combination of several specific innovative products that forms a pioneering admixture package. It includes:
1) MasterLife SLS 200, specifically developed for self-levelling screed application, controls the drying shrinkage, reduces the corresponding risk for cracks and at the same time counteracts curling.
2) The latest generation superplasticizer MasterEase which significantly improves the concrete rheology throughout the entire processing time: the plastic viscosity can be reduced by up to 30 % and the pump pressure minimized.
3) High-performance microfibers of the MasterFiber range, reduce the cracks associated to plastic shrinkage and at the same time contribute to stronger concrete, due to superior bonding properties.
4) The MasterKure curing compounds form a protective film over fresh concrete to retain moisture and to maximize the hydration potential of the cement, resulting in optimum strength development and durability that leads to extended service life.
Convincing performance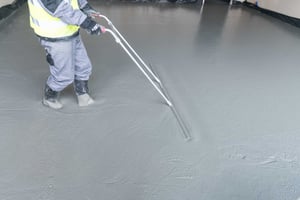 The novel Technology for SLS from Master Builders Solutions convinces all along the line. For the construction of five modern multi-floor blocks of apartments in Bialystok, Poland, the ready-mix concrete supplier RAK-BUD was looking for an innovative screed solution that would be less time and labor-intensive, without compromising high-quality standards. In close cooperation with our experts at Master Builders Solutions, the new Technology for SLS was developed and tested. As a result, RAK-BUD achieved significant quantified sustainable benefits. The early strength development led to a 40 % shorter drying time and consequently avoids any risk of delay in the progress of the project. The construction time could be reduced to a tenth due to the already mentioned excellent flowability and prolonged workability of the screed concrete produced with the Technology for SLS. In addition, the new technology improved the overall CO2 balance per square meter by up to 20 % due to the optimization of the binder content in the concrete mixture and the reduced layer thickness. Convincing, isn't it?

For more information on the "Quantified Sustainability Benefits" campaign, please visit: https://sustainability.master-builders-solutions.com/en