Remaining Competitive in a Sector that's About to be Heavily Transformed by Tech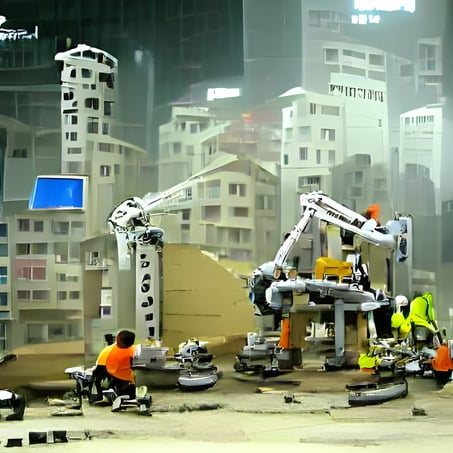 The global construction industry is predicted to grow by more than USD $ 14.4 trillion by 20301, Studies show that this figure translates roughly to a CAGR of 7% by 20252. Digital technology is playing a crucial role in transforming nearly all segments within the industry. Is your team ready for what's next? This post explores some construction technology trends that are poised to disrupt the construction industry and spark curiosity about what's to come.
According to the World Economic Forum, more than 70% of the global GDP will be generated from construction by 20503. While this fact highlights the global significance of the construction industry, it also requires acknowledging the various fundamental technology, resiliency, equity, and sustainability challenges it faces. Construction professionals must focus on an ever-expanding list of critical activities to remain profitable while balancing market dynamics. Despite these pressures, industry organizations have a healthy skepticism towards digital approaches, which could help alleviate some of these pains. These past two years, the pandemic has further underlined the perennial complexities faced by the industry - material costs, supply chain inconsistencies, stagnant productivity, labor, and skill shortages, amongst many others. The tension between a "growth mindset" and a "business-as-usual mindset" was thrust into the spotlight during the pandemic's start. Reasonably, construction companies worldwide began adjusting their practices to a digital-first world, with digital adoption figures for a period of 90-days equal to those seen in the preceding decade4.
As customer and market expectations increase, there's a risk for construction's traditional offerings to experience encroachment by "external" third parties willing to leverage their digital talents. With R&D spending on digital innovation at construction organizations substantially below the 3.5% average across industries, construction leaders could benefit from a different approach5. While incubators/accelerators have historically been used for software and hardware innovations, they are now increasingly backing con-tech startups. Digital innovation incubator or accelerator programs within enterprise organizations usually outperform in-house corporate development or organic efforts in launching ideas. Innovation vehicles specifically built for con-tech startups are helping entrepreneurs develop their ideas and bring them to market faster than ever before. We see increased participation by venture capital funding, focused on backing innovation within the construction industry. This year alone, venture fundings in con-tech have grown by 40% to $26 billion, and the market is projected to grow at a CAGR of 23% over the next few years6.
Some would even claim that we're in an ideal role, especially given how technology currently plays a vital role in our current lives. The goal of construction companies is to create a safe and sustainable environment for our communities to strive in. Technology has dramatically impacted how we plan this future in the last few years. The industry has moved from using pencils and paper to 3D modeling software, sophisticated building materials, and even robotics.
Real-Time Construction Operation Management Will Be Possible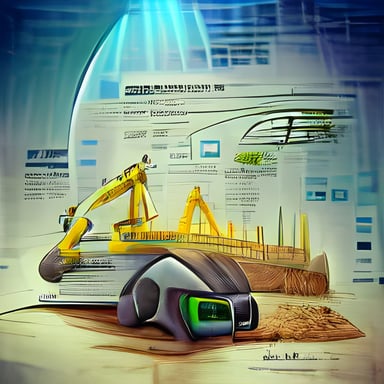 Trends in the construction industry towards digitization and automation create tremendous construction technology opportunities. Construction projects rely on technology from start to finish, from planning through the actual execution process, and then into a property's daily use and maintenance. Workflows are more complex, as tech makes it possible to tackle larger scales, build taller, environmentally conscious, and faster while staying within budget. Smart Construction Management technology is constantly evolving, with positive sustainability and worker safety implications. Tech also has a role in developing new building products and materials, for instance, formulations that allow for less embodied carbon and water use reduction in concrete. With growing "tech stacks," companies that understand how to implement construction technology within their workflows will have a competitive edge over those that don't7.
Construction Will Go Digital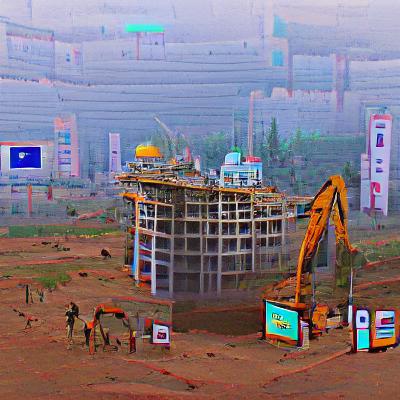 The construction industry is set for a technology revolution, and the future looks more advanced than ever. Construction tech products offer builders the ability to monitor and manage projects remotely track progress throughout the day, among other benefits. The construction industry is getting more automated, with real-time monitoring and control of construction equipment, enabling intelligent decision-making and smoother execution of projects. Adopting these tools may also open new possibilities for cloud & web-enabled services. Internet of things (IoT) and connected devices will make building safer & data analytics will become more accurate. There are some reasonable concerns in discussing the potential impacts of automation and artificial intelligence within the industry. According to a report by the Associated General Contractors of America, roughly 200,000 jobs will be lost to automation in the next ten years8. Some research headlines point to a 49% of worker displacement by 20579.
Yet, there are several actionable insights when considering the value-added benefits from these changes. Automation can also improve project efficiency and performance. AI is changing how engineers develop products by helping them design more efficiently and with greater precision. As a result, manufacturers can create new products faster and at a lower cost than before and reduce or eliminate human error. Similarly, these strategies will help architects & engineers make faster design decisions earlier in the process—before they make costly omissions—and improve communication between team members throughout the product lifecycle.

Once science fiction drones are already being deployed at construction sites worldwide, the ability to monitor equipment constantly using GPS data changes how we view construction equipment assets. The operation of machinery was once a task that required an experienced operator, but the latest advancements allow machinery to be operated by a novice. With the help of Big Data and Artificial Intelligence (AI), we will automate the most basic functions of construction work, making it possible to track progress in real-time. It will be possible to gather data from various sensors and feed it into AI applications to decide which materials are needed for each construction area. These materials will then be delivered at precisely the right time. Construction equipment with sensors and other advanced features will also be used to accelerate project execution, with minimal downtime, increasing profit margins.

The key to making the most of innovation is understanding what it can do for you and how it can add value to your projects. For example, suppose a contractor has better visibility of their costs than their subcontractors. In that case, they can be more competitive when tendering for work or engaging with clients to recommend cost savings for their clients. Also, by knowing their costs more accurately, they can be better equipped to perform risk assessments around specific trades or activities within a project. Improving project performance would also support meeting the triple bottom line of benefitting the client, our business, and the environment.
Tech Will Impact the Industry and Change How People, Businesses, and Tech Interacts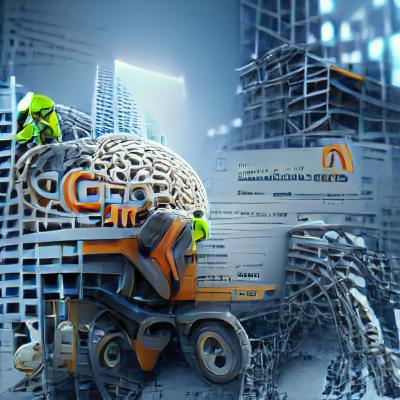 No single technology will change everything, nor quickly, especially in construction. However, some trends and technologies will have a massive impact on how projects are delivered soon. As construction leaders, it's essential to be aware of these critical trends and our organization's level of digital maturity. Developing an effective transformation plan must consider the corporate culture, its people, processes, of course, tools.
New technologies are emerging every day. In recent years, the cost-effectiveness of artificial intelligence (AI), augmented/virtual reality, drones, and even blockchain (the technology behind non-fungible tokens – NFTs) make it possible for businesses to expand into industries that were impossible before. In fact, by 2020, global spending on IoT devices rose to $1.1 trillion USD and is expected to reach $6 trillion USD by 2026 worldwide, thus substantially improving the way businesses operate daily10. Now, much of the infrastructure behind how construction's financial transactions are initiated and processed is highly fragmented and inconsistent.
Construction companies abide by extensive paperwork that requires constant and manual monitoring. Smart contracts powered by the blockchain — where all of this is moved to the ledger — have made it possible for streamlined and "trustless" transactions to occur. In the form of NFTs, smart contracts also allow for more work through distributed workforces and automated tasks that use artificial intelligence (AI) and machine learning (ML). Never have construction teams had access to such diverse technology at their fingertips.
The adoption of other technologies such as smart glasses and augmented reality glasses is increasing in construction sites to monitor building activities remotely. These technologies include visual recognition, drones for remote sensing, and laser scanners for precise field measurements. Concrete damage analysis and classification are fundamental for construction companies to improve safety strategies and decrease the risk of accidents. The technology will help reduce downtime and enable companies to work more safely and efficiently on the ground, thereby improving their bottom line. These are pivotal components of integrated project management systems where all teams can connect on a single platform to gain real-time information on the progress of an ongoing project.
It is only natural for construction professionals to be curious about the future. It's essential to have a firm grasp of how construction technology advancements can impact the industry. While there aren't any guarantees as to what will happen, these technologies appear poised to change the industry in potentially profound ways. It's time for construction professionals to get a leg up on the competition by keeping their eyes on the horizon and ensuring that their teams can adapt to what lies ahead. Although people in the construction industry may see some of today's tech trends as a novelty, they will soon become a standard.
Some Trends to Keep an Eye on
With the construction industry on the brink of a massive tech transformation, we wish to encourage a discussion ecosystem to provide value to your businesses and in turn, help your team be ready. For your reference, below is a list of some of the trends our team is keeping an eye on in 2022, which will be a point of discussion in our weekly Ready for Next blog series, as well as a glossary of some common terms relevant to their discussion.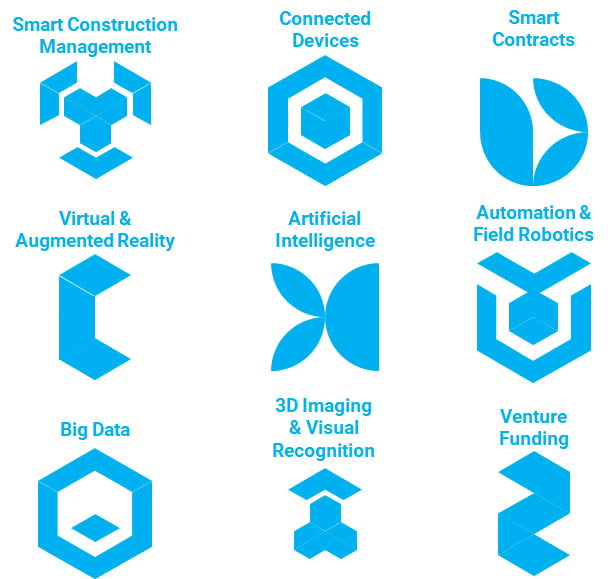 Glossary of Terms We'll Discuss in this Series:
3D Scanning - 3D scanning is the process of analyzing a real-world object or environment to collect data on its shape and possibly its appearance. The collected data can then be used to construct digital 3D models. A 3D scanner can be based on many different technologies, each with its own limitations, advantages, and costs.

Artificial Intelligence (AI) - Artificial intelligence is intelligence demonstrated by machines, as opposed to the natural intelligence displayed by animals including humans.

Augmented Reality (AR) - Augmented reality is an interactive experience of a real-world environment where the objects that reside in the real world are enhanced by computer-generated perceptual information, sometimes across multiple sensory modalities

Big Data - Big data is a field that treats ways to analyze, systematically extract information from, or otherwise deal with data sets that are too large or complex to be dealt with by traditional data-processing application software.

Blockchain - a system in which a record of transactions made in bitcoin, or another cryptocurrency are maintained across several computers that are linked in a peer-to-peer network

Business Incubators (or Tech Incubators) - an organization that helps startup companies and individual entrepreneurs to develop their businesses by providing a full-scale range of services starting with management training and office space and ending with venture capital financing.

Construction & Field Robotics - Construction robots are a sub-set of industrial robots used for building and infrastructure construction at the site. These robots must be able to move and fix themselves to the working zone, handle construction materials and interact with humans and other types of machinery

Decentralized Computing - the allocation of hardware and software resources to each individual workstation or office location. In contrast, centralized computing exists when most functions are carried out or obtained from a remote centralized location. Decentralized computing is a trend in modern-day business environments

Digital Twin - A digital twin is a virtual representation that serves as the real-time digital counterpart of a physical object or process.

Distributed Ledger Technology - A distributed ledger (also called a shared ledger or distributed ledger technology or DLT) is a consensus of replicated, shared, and synchronized digital data geographically spread across multiple sites, countries, or institutions. Unlike with a centralized database, there is no central administrator.

Computer Vision (Image/Visual Recognition) - An interdisciplinary scientific field that deals with how computers can gain high-level understanding from digital images or videos. From the perspective of engineering, it seeks to understand and automate tasks that the human visual system can do

Internet of Things (IoT) - The Internet of things describes physical objects that are embedded with sensors, processing ability, software, and other technologies that connect and exchange data with other devices and systems over the Internet or other communications networks.

Machine Learning (ML) - Machine learning is the study of computer algorithms that can improve automatically through experience and using data. It is seen as a part of artificial intelligence.

Non-Fungible Tokens (NFTs) - A non-fungible token is a non-interchangeable unit of data stored on a blockchain, a form of digital ledger, that can be sold and traded. Types of NFT data units may be associated with digital files such as photos, videos, and audio

Peer-to-Peer Network - Peer-to-peer computing or networking is a distributed application architecture that partitions tasks or workloads between peers

Remote Sensing - Remote sensing is the acquisition of information about an object or phenomenon without making physical contact with the object, in contrast to in situ or on-site observation.

Smart Contracts - A smart contract is a computer program or a transaction protocol that is intended to automatically execute, control, or document legally relevant events and actions according to the terms of a contract or an agreement.

Tech Solution Stack - In computing, a solution stack or software stack is a set of software subsystems or components needed to create a complete platform such that no additional software is needed to support applications. Applications are said to "run on" or "run on top of" the resulting platform.

Venture Capital Funding (VC Funding) - A venture capital fund refers to a pooled investment vehicle (in the United States, often an LP or LLC) that primarily invests the financial capital of third-party investors in enterprises that are too risky for the standard capital markets or bank loans

Virtual Reality (VR) - Virtual reality is a simulated experience that can be similar to or completely different from the real world. Applications of virtual reality include entertainment, education, and business
Note: All terms shared under creative commons (via Wikipedia)