Concrete element production is impossible without suitable cleaning and release agents – to keep the formwork clean and to facilitate formwork removal. IDEAL Beton, a manufacturer of precast concrete elements based in Montabaur, Germany, swears by the Master Builders Solutions bio-based MasterFinish range. The results include high-grade concrete surfaces and significant cost reduction thanks to environmentally friendly products.
"In precast production, selecting the right formwork cleaner is crucial", stresses Sascha Ströder, managing director of IDEAL Beton, who specialize in wall and ceiling elements and are the exclusive supplier of concrete elements for the high-quality HUF prefab-house range. "Cleaning performance vitally affects the quality of the finished concrete element. Here, MasterFinish CLN 689 is exactly the product we had been looking for." Next to its reliably high cleaning performance, the eco-friendliness and sustainability of the formwork cleaner also played a major part in the company's decision to rely on products of the MasterFinish range; as did, of course, the immediately visible positive effect on the quality of the concrete elements: "The resolution to switch to a combination of MasterFinish products for all our production processes was made final after our customers kept commenting on the flawlessness, and freedom from rust, of our concrete elements", Ströder recounts.
Perfect surfaces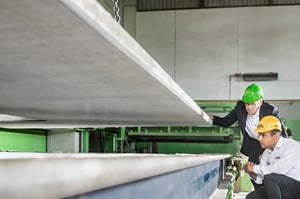 Any concrete residue or traces of rust or other materials on the formwork can have a pronounced adverse effect on visual appearance and detail accuracy of the finished concrete element – and if worst comes to worst, elements will have to be discarded and redone. MasterFinish CLN 689 can do much to prevent all this: "The cleaner leaves a micro-layer on the surface of the formwork, which not only serves as effective rust protection on steel formwork but also facilitates the easy removal of all traces of cement, rust and foamed polystyrene", explains Cengizhan Zor, application engineer for precast concrete elements in Germany, Austria and Switzerland at Master Builders Solutions. "In addition, the cleaner also provides the ideal base for the release agent and ensures there are no unpleasant surprises after formwork removal."
Made from 98% renewable raw materials, MasterFinish CLN 689 is a low-odor, easy-to-use and readily biodegradable product. Moreover, it increases the efficiency of MasterFinish release agents. "In the combination of MasterFinish cleaner and release agent, we have found a solution that is exempt from labeling and that enables us to realize our high requirements in terms of concrete quality and environmental compatibility", Sascha Ströder says. "And what is more, this solution has enabled us to cut costs significantly – amounting to an about 30% reduction in cleaning costs and a roughly 50% extension in formwork service life."
Tailor made solution
The broad-scale utilization of MasterFinish products at IDEAL Beton was preceded by a one-week test phase on the company's premises with experts from Master Builders Solutions. Cengizhan Zor: "The products of our MasterFinish range provide for a variety of application scenarios to suit individual requirements. Finding a custom-tailored solution also involves a thorough look at the machinery and processes in place at the customer's site. We have worked closely with the customer, putting quite a number of products and product combinations to the test to come up with the solution package that perfectly meets all the requirements." In this case, this also included a switch from manual application to a spray-bar system, which served to reduce the amount of product needed and thus to further reduce costs.
The MasterFinish range from Master Builders Solutions comprises, among others, bio-based formwork cleaners, release agents, mold waxes, and products for equipment care and maintenance. At precast plants, MasterFinish facilitates faster and easier formwork removal and prevents rust formation on formwork surfaces, visibly improving the quality of concrete elements. For ready-mix producers, MasterFinish greatly facilitates the cleaning and maintenance of mixing equipment, machinery, and concrete vehicles, and thus helps preserve valuable assets.