Recently, the UN Climate Conference COP26 was hosted by the United Kingdom in partnership with Italy and encouraged many leading industrial partners to work together on the "Hope Sculpture Project", a flagship project for a sustainable future. Globally, we are called as society to take action to reduce CO2 emissions and achieve the 2050 targets. The construction industry can contribute significantly to overcome these challenges by developing and promoting materials and solutions with improved carbon footprints.
To reduce the environmental impact, new measures must be taken such as the introduction of low carbon concrete. This is where alkali-activated cementitious materials (AACM), also known as geopolymer concrete, comes in…
A symbol for a sustainable future
Standing 23 meters tall, the "Hope Sculpture" is a symbol of hope and optimism, pointing to the importance of achieving key global environmental milestones. Its long, elegant columns are modeled after the brick chimneys stalks that once graced Glasgow's East End. Located in the Clyde Gateway forest park on the Cuningar Loop, the symbolic sculpture is the centerpiece of a total of three public art installations designed by Steuart Padwick, a well-known British designer and sculptor.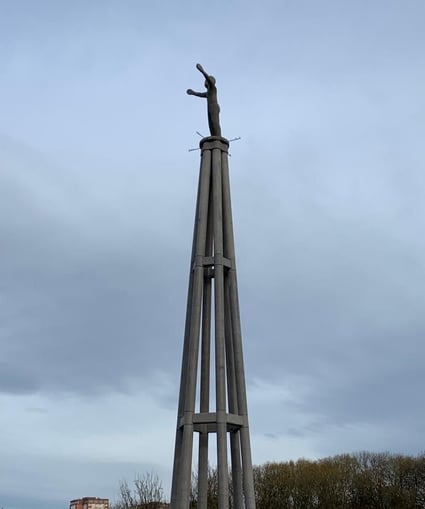 The age, gender and race-neutral child at the top of the column embraces the surrounding nature with his hands, symbolically reaching out to a more sustainable and hopeful future.
What distinguishes the "Hope Sculpture" from other public art installations? The answer clearly lies in the choice of the building materials – ECOPact Max and ECOPact Max+ green concrete range from Aggregate Industries. The innovative alkali-activated concrete was made using locally sourced aggregates in combination with supplementary cementitious materials, an alkaline activator and a unique superplasticizer developed by Master Builders Solutions specifically for alkali-activated concrete. Alkali-activated cementitious materials allow the use of alternative or waste raw materials such as ground granulated blast furnace slag (GGBS) or pulverized fly ash, providing an environmentally friendly alternative to traditional concrete without compromising quality. Alkali-activated concretes, whilst widely known, are still limited in use due to the current lack of recognized standards and regulations, however, they are becoming increasingly important when considering the current sustainability challenges.
Recycled crushed glass was used in the construction of the child figure, while recycled steel gas pipes and recycled rebar were used for the individual piles, reducing the overall carbon footprint by 75%.
Strong partnership that pays off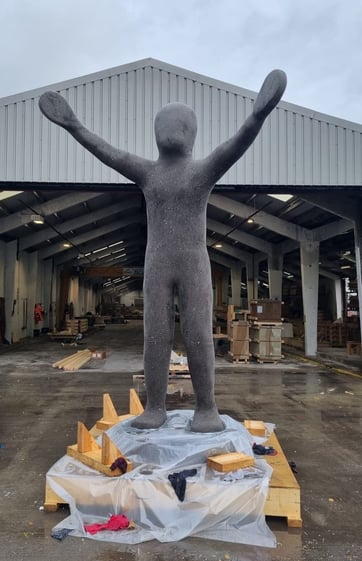 The use of low carbon footprint concrete and cement alternatives for the building of new construction projects is a great option to contribute to the transition to a net zero future. Master Builders Solutions and Holcim, leaders in the construction industry, already enjoy a close and long-standing cooperation at a global level, resulting in several joint development projects.
Master Builders Solutions has been working, at a global level, for several years to develop new admixtures suitable for low carbon concrete, including concretes without CEMI, thus developing a significant amount of both knowledge and expertise in these environmentally important technologies.
For the "Hope Sculpture", Aggregate Industries, a brand of Holcim and supplier of the concrete, has been working in close cooperation with the Technical Team of Master Builders Solutions UK for several month, supported by Master Builders Solutions' global experts. The project presented several challenges, such as the achievement of high fluidity of the alkali-activated concrete and the maintenance of this fluidity for 2 hours.
"We are pleased to have been able to support Aggregate Industries and its partners with our latest innovations in this ambitious and visionary project in such a short time," says Dr. Maxim Pulkin, Business Development Manager Admixture Systems Europe and global expert in cement-free concrete solutions at Master Builders Solutions. "Strong partnerships are essential to develop high-performance solutions that achieve a long-term sustainable impact on the construction industry", he adds.
The trials to establish the concrete mix design were conducted at the Master Builders Solutions UK's Rochester laboratory during July 2021 and showed that MasterSure GPC 7200 gave the required balance of initial consistence, consistence retention (minimum of 2 hours), rheology, and strengths at both early and late ages. For the actual child figure further trials with different pigment blends and recycled glass aggregates were conducted to obtain the sculptor's desired color and unique exposed aggregate texture and finish.
The actual AACM concrete performance at a glance:
Concrete consistency class S5
Remarkable early and late strength development: 20 MPa at 24hrs / >55 MPa at 28 days
No traditional Portland cement required to produce high-quality concrete
The Hope project is an integral part of the United Nations Climate Change Conference and a symbolic reminder to make an important and necessary contribution to a net-zero future.

For further information on the Hope sculpture, please visit:
Official website: https://thehopesculpture.com/
LinkedIn: https://www.linkedin.com/company/the-hope-sculpture/
Facebook: https://www.facebook.com/TheHopeSculpture
Instagram: https://www.instagram.com/thehopesculpture/
Aggregate Industries: https://www.aggregate.com/news-and-resources/press-releases/Aggregates-Industries-Creates-Bespoke-Low-Carbon-ECOPact-Concrete-for-Hope-Sculpture
For further information on the products and success stories of Master Builders Solutions, please visit:
www.master-builders-solutions.com
www.sustainability.master-builders-solutions.com