Crossrail is delivering the Elizabeth line – a new railway for London and the South East. When complete, the railway will run over 100 kilometres from the west, through new tunnels under central London to the east. There will be a total of 41 stations, including 10 newly built stations.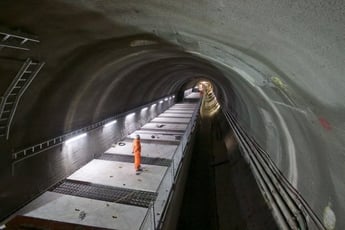 For just over three years, eight giant Tunnel Boring Machines (TBMs) burrowed below the streets of London to construct 42 kilometres of new rail tunnels. Each TBM was a 1,000 tonne, 150 metre long underground factory with 20-person tunnel crews working in shifts around the clock between May 2012 and May 2015. Over 200,000 tunnel segments were used to line the 42 kilometres of tunnels.
The Underground Construction experts of Master Builders Solutions worked closely with the main contractors of the TBM works throughout the entire project. In addition, Master Builders Solutions provided global-leading consultancy to the Sprayed Concrete Lining (SCL) sections of work to ensure that, with a high level of support and training, the works were completed with minimal disruption and improved efficiency.
Images courtesy of Crossrail/Flickr
To assist in the TBM construction, conditioning the soil, post-excavation, was key to ensuring the tunnel programme was kept intact.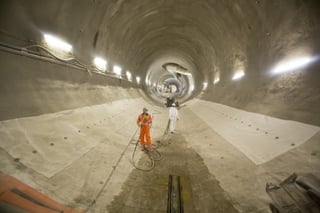 The performance characteristics of the MasterRoc ACP 143 (an anti-clay polymer for earth pressure) contributed to this by breaking down the London Clay from pursuing its natural attributes of clogging with its high adhesion. Furthermore, the use of MasterRoc SLF 41 (a soil conditioning foam for TBMs) was required intermittently when the TBM encountered soil bands of permeable silts/gravel. This enabled a smoother mucking away of the spoil by binding the soils and decreasing the permeability quality.
MasterRoc SA 160 (a set accelerating admixture for sprayed concrete) was used throughout the Crossrail project.
Images courtesy of Crossrail/Flickr
High-quality, durable shotcrete (sprayed concrete) has become a vital component of ground support and stabilization in the tunnelling industry. Over 60,000 litres of MasterRoc SA 160 helped to create a state-of-the-art, monolithic and composite structure with a substantial reduction in cost and time, lowering health risks, increasing worker safety and reducing the environmental impact versus conventional dry mixes.
In addition, over 800 tonnes of MasterSeal 345 (a spray-applied waterproofing membrane for tunnel concrete composite shell linings) was used on the new tunnels to deliver a world-class watertight structure designed to withstand a minimum 120-year lifespan. The development of MasterSeal 345 allows a two-sided bond to both the primary and secondary lining, allowing for a composite behavior to take place. This fully bonded system provided excellent water tightness for the tunnels
The Elizabeth line service will open through central London from December 2018. When fully complete in 2019, it will increase central London rail capacity by 10%.


Images courtesy of Crossrail/Flickr