The standard procedure in deep foundation construction uses bored concrete piles or pile walls. In unstable ground conditions, or where the ground is prone to subsidence, this serves to reliably distribute structural loads onto a suitable bearing stratum.
The concreting of bored piles is mostly realized with the tremie method: It starts with the excavation of a bored pile including any required piping and may be followed by the installation of a reinforcement cage. Subsequently, the pipe is filled with concrete using a hopper, starting at the base of the borehole. As concreting progresses, the segmental pipes are removed again. This procedure places extreme demands on the concrete mixture.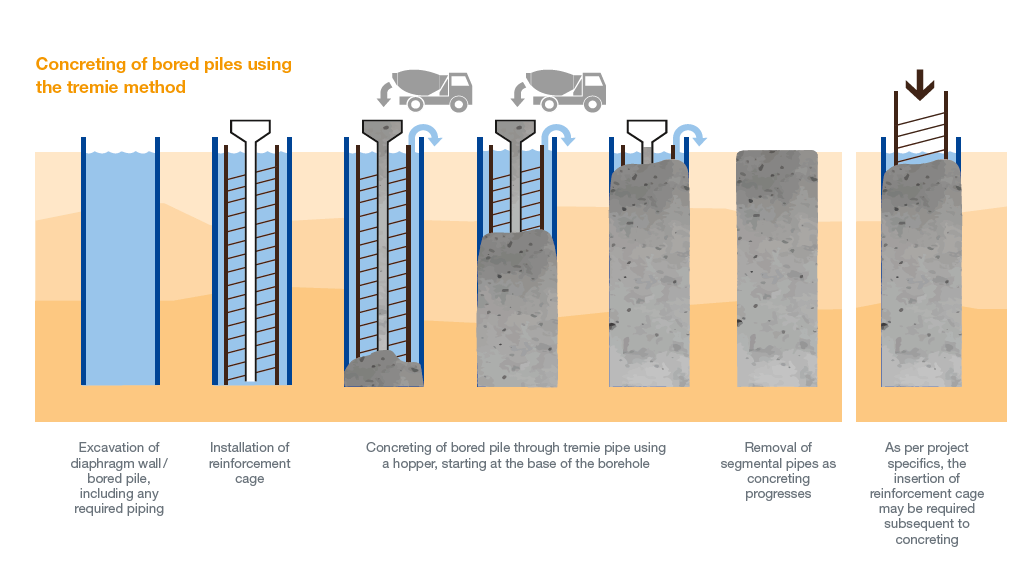 To ensure structural integrity and maximum durability of the foundation, the concrete used in the construction of bored piles must meet a variety of flowability and stability requirements. The innovative concrete admixtures of Master Builders Solutions are perfectly geared to such requirements.
The combined use of the latest generation of plasticizers (MasterSure LDP) and stabilizers (MasterMatrix FC 500) in deep-foundation construction enables groundbreaking synergy effects where rheology and water retention are concerned. This offers numerous benefits:
Extremely low concrete viscosity for easy pumping

Highly extended workability time of 6 hours or more

Maximum flowability in self-compacting concretes

Effective water retention

Robust, high-performance concrete
MasterSure LDP (Long Distance Pumping) is an innovative plasticizer whose unique polymer configuration was specially developed for the highly demanding requirements of deep foundation construction. In the production of high-performance concretes at low water / cement ratios, MasterSure LDP technology combines extended consistency retention with outstanding rheological properties. This enables maintaining a uniform consistency in flowable concretes for six hours or more at very low viscosity levels. This way, the concrete remains workable and stable throughout long transportation and pumping distances.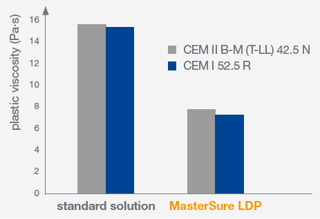 MasterSure LDP can be combined with MasterMatrix FC 500, a novel stabilizer for use in deep foundation operations. The high hydrostatic pressure during the concreting of bored piles (up to 70 m) can, for instance, result in water being pressed out and therefore resulting in reduced-quality bored piles. MasterMatrix FC 500 prevents this, by combining maximum water retention with low viscosity and good temperature stability.
This combination of both stabilizer and plasticizer leads to a concrete mix which suits perfectly the needs of deep foundation construction and enables a smooth and reliable construction process irrespective of mixing intensity or head of pressure.