In November, Master Builders Solutions issued invitations to the event "Industrial Floors – Right First Time" at Expert Forum Construction – Network for Innovations in Ludwigshafen. In his presentation "Innovative admixtures for industrial floors", Oliver Mazanec, Head Of Product Management - Admixture Systems Europe, outlined the role of concrete admixtures in this specific application.
Industrial floors bear a heavy burden. Their most important function is to lay a firm foundation for industrial activities – especially for a variety of production processes. The floor must carry the weight of the machinery required, whether it is firmly anchored or mobile. Cracks, ruptures, potholes, and other defects are not only of cosmetic importance but are a clear sign that repair work is needed. In addition, they can present a safety hazard, for example, a risk of tripping. Finally, they can disturb the sensitive balance required for many production processes. Many applications call for specific coatings which must also be safe, reliable, and durable.
Concrete bears the load
In his presentation on "Innovative admixtures for industrial floors", Oliver Mazanec, Head of Product Management – Admixture Systems Europe with Master Builders Solutions, emphasized that a thorough analysis of the actual requirements was the first step in developing a durable, reliable industrial flooring solution. His presentation focused on the concrete floor slab, which provides the load-bearing basis of almost all industrial floors. The use of different admixtures in the various phases of concreting, curing, and utilization can significantly improve the general properties and durability of the concrete.

Easy installation with MasterEase
During the laying of concrete, there are already various possibilities for using admixtures to improve its processing properties. For example, superplasticizers based on beta-naphthalenesulphonate produce low-viscosity concrete and have a robust reaction to overdosing. However, curing is considerably slowed and these admixtures cannot be mixed with products based on polycarboxylate ether. On the other hand, polycarboxylate ether products allow severe water reduction and ensure high early strength values, although they may make the concrete sticky and more difficult to process. The positive features of both types of products are combined by MasterEase, a newly developed Master Builders Solutions product based on polyaryl ether, which Mazanec presented during his talk. Among other positive features, MasterEase ensures stable concrete without bleeding or segregation. The benefits include low viscosity, high early strength, improved pumping properties, outstanding smoothing properties, and efficient soot dispersal, which is especially useful in the case of concrete with a significant fly ash content. As side-effects, the product relieves the burden on equipment, allows cost savings through faster concrete laying, and can even be used for after-dosing, irrespective of the original formulation, thanks to its compatibility with other superplasticizers.
MasterKure prevents evaporation damage
Because of their large area, floor slabs are especially susceptible to evaporation damage. This risk can be significantly reduced by appropriate intermediate post-treatment or post-treatment. Mazanec mentioned MasterKure 111WB as an example: thanks to the barrier effect, which prevents up to 80 percent of evaporation in the first few critical hours after laying, this product can reduce water loss by up to 60 percent compared with untreated surfaces. This in turn prevents drying cracks, the formation of a thin crust that can easily split off or edge curling as a result of uneven shrinkage. This way, it is not only possible to reduce the risk of complaints but also to improve the bearing capacity and durability of the concrete – desirable side-effects include easier smoothing and good adhesion of coatings to the concrete.
Faster is better in the case of concrete floor slabs: Master X-Seed
Another possibility of improving the quality of a concrete floor slab is to use Master X-Seed 100 hardening accelerator with its seeding technology, according to Mazanec. Instead of waiting for hydration to start with the formation of crystalline seeds in the concrete, they are simply added. In this case, the word "simply" applies mainly to the use of the product: "The creation of these crystallization seeds and their stabilization in a liquid suspension was the result of a complex development process at Master Builders Solutions," Mazanec reports. "However, the effects are spectacular." In the final resort, the crystallization seeds added to the concrete do not differ from those later formed in the fresh concrete – but they significantly accelerate the hardening of the material. Unlike other methods of hardening acceleration, this approach has no adverse impact on the properties of the cured concrete. One consequence of faster, more homogeneous strength development is that there is less time for the formation of drying cracks, crusts, or edge curling, especially important in the case of slabs with large areas. In addition, the timing of the smoothing operation can be controlled in a targeted way and the result is a high-quality surface.
Durable stability with MasterLife SRA and MasterFiber
The use of appropriate concrete admixtures can also enhance the long-term integrity of the concrete floor. Here, the objective is mainly to reduce cracking and to prevent the widening of joints.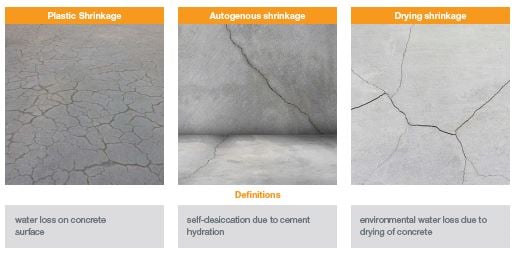 Cracks in concrete mainly occur as a result of the shrinkage of the material. For a significant reduction in various types of shrinkage, Master Builders Solutions has developed innovative products in the MasterLife SRA series. These effectively reduce autogenous and drying shrinkage of ready-mixed concrete and prefabricated concrete elements without impairing the mechanical properties of the material. This is achieved not by adding expanding substances to compensate for shrinkage, which could compromise the strength of the concrete, but by reducing the internal capillary forces within the material in a chemical process.
Another effective means of preventing cracking is the use of MasterFiber synthetic fibers for reinforcement. Depending on the specific requirements, special micro, meso, or macro fibers prevent cracking and keep the width of any minute cracks which may have formed as small as possible. They significantly improve the flexural residual strength, ductility, and general durability of concrete.
Know-how – a key factor in the overall solution
Mazanec concluded his presentation by saying that durable, reliable industrial flooring solutions not only called for the right concrete admixtures but also for appropriate know-how. "At Master Builders Solutions, we always offer not only efficient products with comprehensive documentation but also general optimization of the concrete formulation and support for the development of an overall solution." According to Mazanec, however important product quality may be for construction projects, it is only the right combination of products and the correct application that makes it possible to exploit their full potential.