About Ready for Next:
A series that explores the tech trends poised to disrupt the construction industry, culminating in an exclusive virtual event where Master Builders Solutions' Global Digital Insights Strategist, Ricardo J Rodríguez, and construction tech experts will discuss how these main trends will shape the construction businesses worldwide. Please follow the link below should you wish to learn more and confirm your attendance.
Drones and Field Robotics are Now Essential Tools in the Construction Industry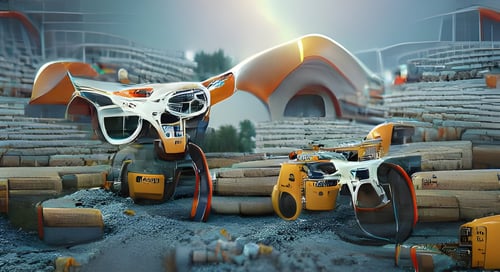 An increasing number of businesses are taking advantage of construction robotics & drones' efficiency, safety, and convenience to increase the speed and quality of their work. By providing construction workers and contractors with high-quality operational capabilities without risking their safety, drones make it possible to build larger and quicker buildings with less risk to human life. In this week's Ready for Next post, we look at what makes drones such powerful tools in construction and how they will continue to be used throughout the industry.
While basic tasks in construction still need human involvement to ensure safety and quality, advanced robots are beginning to offset dangerous work that people have traditionally done. When humans are removed from the construction field, sites become safer, and workers can complete jobs more quickly due to the ability of robots to work around the clock. However, drones in construction equipment aren't just about replacing people with robots; it's also about improving productivity through automation and streamlining the construction process through better use of data. Construction robots can accomplish any number of functions on a construction site. This versatility should be of little surprise, as field robotics are used in agriculture, mining, utilities, and public safety contexts.
The construction industry is vast, with many different jobs that need to be done to construct a building or infrastructure. Many potential risks can occur at a construction site, so it is essential to have regular inspections to identify any problems before they become more significant. Autonomous systems can be employed to facilitate these risk mitigation strategies. As robotics technology advances, drones make construction sites safer and more efficient, with drones having the capability to augment operational safety, from moving materials to welding to painting.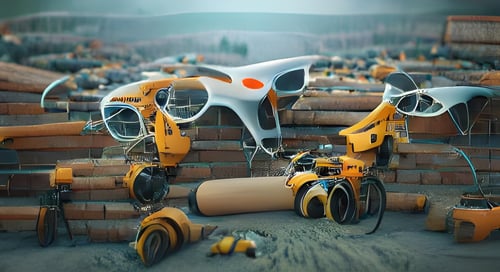 Drones are the Future of Construction
Construction robots are a subset of industrial robots used worldwide for building and infrastructure construction. In general, robotic devices used in the construction industry can be categorized into mobile and stationary. Mobile construction robots include drones and autonomous vehicles. Stationary devices have robotic assembly arms and remotely controlled equipment, such as cranes and surveillance drones.
These can be employed to execute a variety of tasks, including:
Automated Project & Building Inspection
Staff & Worker Safety through Heat Mapping
Site Security & Surveillance
Remote Monitoring & Progress Reports
Real-time tracking of construction equipment
Scanning & Surveying
Demolition & Hazardous Materials
In some cases, these robots/drones can move semi-autonomously within a construction site, handle construction materials, interact with humans, photograph, and interface with other types of machinery. As a topic, field robotics encompasses various technologies, including visual recognition, remote sensing, and laser scanners for precise field measurements. For example, accurate field measurement allows for concrete damage analysis, which helps construction companies develop a more extensive and thoughtful plan to improve safety strategies and reduce the risk of accidents. Using these tech platforms can lead to reduced downtime and more safe, efficient groundwork that, in turn, helps improve their bottom line. More and more construction businesses are relying on robotics as an integral part of enhancing the capabilities of their field operations teams. As these devices integrate with an organization's project management system, all business units can collaborate to access a project's information and make smart decisions in real-time.
Likewise, many construction sites already have remote operations and site safety controls that rely on mobile devices or radio frequencies to monitor workers' locations and progress. In addition, there is also a growing need for site surveillance and monitoring that requires both video footage and sensor data from multiple sources (e.g., temperature sensors). This type of data would be helpful during emergencies and everyday operations when there may be no people present at specific locations such as below ground level or high up on scaffolding.
A combination of commercial drone applications and off-the-shelf industrial robot hardware makes it possible to use uncrewed aerial vehicles (UAVs) to assist in many construction activities, including inspection and measurement tasks. UAVs are being deployed on projects today through third-party providers who integrate UAV capabilities into existing enterprise software platforms. Using these existing software platforms, many different parties—including contractors, developers, engineers, and insurers—can benefit from drone data without developing custom software for each use case.
Automation of Construction Site Operations
Drones have taken off as video recording and photography tools at construction sites, but their use is expected to grow beyond such functions thanks to autonomous capabilities. For example, industry professionals can use drones to map out projects before building begins, which helps avoid errors later on. This type of planning allows you to see things like terrain elevations or water tables ahead of time, making it easier to construct walls or place pipes.
Construction is one of those industries where there's a decent amount of repetitive, manually intensive labor involved. It's no wonder then that automation of construction sites is becoming increasingly familiar, with the US market expecting to reach USD 95.10 million in sales by 20261. What will these drones and field robots mean for construction businesses? These machines can make your crew more productive during working hours while also helping to reduce expenses associated with wages and benefits. With these innovations on board, we expect skilled operators and supervisors to become an essential part of most construction crews.
Autonomous drones can also help detect issues faster by scanning your site from above, which means you can fix problems sooner rather than later. In addition to drones, construction equipment featuring robotic arms is another way construction workers use automation on-site. From the remote operation of heavy machinery to smaller robotic arms used for drilling holes and lifting materials, these new technologies bring us closer to a future where humans aren't needed on construction sites as much anymore. Construction Jobs: The rise of automation in construction has already begun impacting employment levels across various sectors within the industry. Research shows that around half (47%) of all contractors surveyed said they had reduced headcount because of automation - although interestingly enough, only 14% said they had increased headcount due to automation2.
Automated Safety & Security Assessments
Many of today's construction sites contain multiple high-risk hazards and safety risks. If a worker falls or becomes injured, it can jeopardize an entire project's timeline and cost estimates. Drone technology is being used to conduct complete security risk assessments of a building site—allowing for easier tracking of building progress and faster response time during emergencies. Drones can also perform repetitive inspections over time to help identify problem areas before they occur, thereby reducing worker injuries and fatalities. The recent proliferation of drones also means that stakeholders can conduct risk assessments more frequently throughout a construction project. Each drone automatically relays critical information back to project managers via mobile device or web app.
High-risk work zones have traditionally been difficult to assess. In addition to being time-consuming, manual safety audits required workers or supervisors to perform physical inspections of each area often overlooked or rushed due to various safety concerns. Drones reduce these risks by conducting security risk assessments from a distance. Traditional construction machinery can also be equipped with sensors that communicate relevant data to project managers about building progress, weather conditions, and other factors. Drones and sensors allow safer and more efficient building projects across multiple industry sectors when used together.
Automated security risk assessments help companies maintain stringent safety standards without sacrificing project efficiency or deadlines. Local health and safety inspectors may rely on drone footage to investigate workplace claims under jurisdictional occupational safety and health guidelines if a workplace accident occurs. These drones could even help save lives in critical situations. For example, they could facilitate faster emergency response during dangerous inclement weather events—like hurricane monitoring—by delivering detailed images to disaster relief organizations so rescue efforts can begin sooner.

Visual Recognition & Diagnosis
Field robotics is a sub-set of industrial robots used for building construction. They include drones, robots, and other devices that can operate autonomously or with human supervision. Traditional construction equipment can be automated and run more efficiently by employing AI, particularly machine learning algorithms. Visual recognition is one way a robot can learn to perform its tasks without help from humans. A visual recognition algorithm would allow a drone to identify wires, windows, and bolts it should avoid. It would also ensure walls stay intact by circling them until hammered into place. Then the field robotics device could examine sections of buildings or structures under repair and compare them against as-built blueprints to ensure that an architect's vision has been carried out accurately by workers on site.
An autonomous field robotics device can also analyze its surroundings and check for potential issues like water infiltration, cracks in concrete, and other problems. That's part of what makes artificial intelligence so attractive to those with a stake in field robotics. For example, your average homeowner may not know if their chimney is cracked—but skilled workers could program a drone to recognize visual cues that indicate it might be time for repairs. Likewise, construction equipment could have AI capabilities designed to help them perform predictive maintenance, which would allow it to anticipate better when certain parts need replacement or repair. These technologies will vastly increase productivity on construction sites and ultimately reduce costs for project owners and consumers alike when fully implemented.
Additionally, drones can complement digital twin platforms, automating identifying and diagnosing structural defects requiring repair. Machine learning algorithms could analyze physical asset data captured through drones and laser scanning as a diagnosis-based and first-response solution. These could offer effective repair solutions, provide stakeholders with a status of the existing conditions in a transparent platform, and coordinate warranty or maintenance plans accordingly. With time these platforms could inspect sites autonomously, learning and refining their capabilities with each completed project, documenting its findings automatically, increasing the speed of repairs, and decreasing the risk of failure and associated labor costs.
Additional Take-Aways
More construction equipment will relay information back to construction stakeholders in real-time, improving how workers collaborate, react to dynamic site conditions, and reduce waste. As drones continue to evolve, they will become an even more integral part of the construction. With the introduction of machines that could do the work of many people, suddenly, whole projects could increase their productivity at a fraction of the cost.
This post explored how drones and field robotics can be invaluable to construction workers. They can easily record and stream real-time data from various construction sites. When combined with other high-tech tools, such as integrated construction management systems, drones can elevate best practices and quality standards for all levels of construction work. These workflows are increasingly simple enough for workers with any experience level to follow and produce consistent results, even on a complex project. With venture capital funding focused on the construction industry in the past few years, construction robotics has been a significant growth area3. It won't be long until most construction businesses steadily employ drone operators amongst their staff.