The Neckar river in Heilbronn, Germany, was the venue for the 17th German concrete canoe regatta, held at the end of June and sponsored by Master Builders Solutions®. Mareike Thiedeitz, project leader and research assistant at the department of civil, geo and environmental engineering at Munich's Technical University, and Elena Woydich, also TU Munich and currently in the third semester of her civil engineering Masters course, talk about the event.
What was the concrete canoe regatta like for you?
Mareike Thiedeitz: It was tremendous fun. We completed our canoes two days before the event, and they had their maiden trip on the Neckar in Heilbronn. Their names could not have been more appropriate: Unsinkable II and Unsinkable III did us proud during the three days of the event.
Elena Woydich: It was a great competition. We started with two male teams and one female team. I also liked the fact that the entire race course was really in the city – this made for a large audience that really cheered us on. And since the weather was great as well, the river was the perfect place to be that weekend.
How did you build the canoe?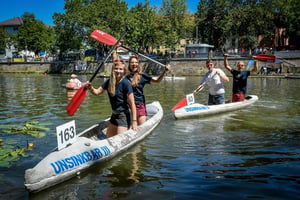 Mareike Thiedeitz: The usual approach involving the construction of timber formwork is a rather elaborate and time consuming process. Moreover, none of use is really a "carpenter". This is why we trowel-applied the concrete mix onto the original canoe, which we had bought second hand. This was done in two layers, with a glass-fiber mat between layers as reinforcement. For better splash protection, we used both the lower and upper sections of the canoe.
How did the experts from Master Builders Solutions assist you?
Mareike Thiedeitz: They generously provided us with many of the less-conventional concrete admixtures. Our plasticizer, for instance, is from the Master Builders Solutions MasterGlenium range; it served to improve workability and greatly facilitated trowel application. We had to keep a close look on weight to meet buoyancy requirements, which meant that concrete could only be applied very thinly. At lower dosages, the MasterGlenium plasticizer is perfect for adjusting to specific consistencies, which enabled us to apply the concrete exactly the way we wanted. At our institute – with the Trostberg Master Builders Solutions site not far away – we make quite extensive use of admixtures from this range; this is why we can usually pinpoint the admixtures we need fairly accurately. And the experts from Master Builders Solutions always respond quickly with advice and practical support.
Was there a stage in the project that you would describe as particularly 'intense'?
Elena Woydich: For me, concreting could be described in this way, yes. Mistakes simply weren't an option throughout the process – despite the relatively long pot life of the concrete. Preparing the mix while the others in the team keep applying the material requires practice and good timing.
Is there anything you would do differently next time?
Mareike Thiedeitz: Building a slightly less-standard canoe, using unconventional construction methods and recycling materials for instance, would be exciting. 3D printing, too, is a very interesting approach, both in terms of practical execution and concrete technology.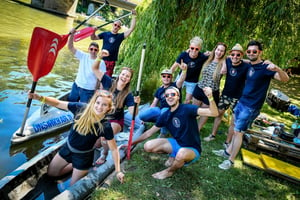 What are you taking away from the project?
Elena Woydich: I was able to increase my materials know-how, make contact with several companies including Master Builders Solutions, and explore new products such as the MasterEase plasticizer, which impressed me for its effects on concrete rheology and viscosity reduction. Close to finishing my Masters course now, I found this very interesting.
Mareike Thiedeitz: I've learned a lot in terms of project management and, particularly, about working on a project with students. And the dialog and exchange with other universities as part of the project is a huge added bonus. There have been opportunities to pick up new ideas, as well as to learn how other universities work with concrete and how they approach production.
Which boat impressed you the most?
Mareike Thiedeitz: The team from ETH Zurich showcased two quite intriguing construction designs. My personal favorite, though, were Ernie and Bert from the TH Darmstadt team.Elena Woydich: I was quite impressed by Hanover university's entry in the open category. The team had constructed a mobile dry dock, made up of three lined-up canoes in such a way that the middle one could be lowered into the water. Their team spirit, and their time-consuming design, really impressed me a lot.
What happens to your boat now?
Mareike Thiedeitz: One of the boats will become a permanent exhibit as a flower trough right outside our department building. The second boat will take Elena and myself into the upcoming training stage – to prepare for the next concrete canoe regatta.
Pictures: © IZB/Sascha Steinbach