The building industry is being transformed by new technology: 3-D printing has the potential to revolutionize buildings. 3-D printing has already opened up previously unimagined possibilities in formwork production. Some pioneers have also taken a further step forward in Europe, with the printing of concrete. With long-term global expertise and experience with concrete as a construction material and its strong commitment to innovation, Masters Builders Solutions is forging ahead with this development in close cooperation with its customers and several research institutes.
The general automation of buildings is making rapid progress and the benefits are evident: it is faster, less costly, safer, offers more consistent quality and conserves resources. One of the key technologies in this area is 3-D printing. If you like, you could even consider traditional building techniques to be additive manufacturing processes: You add brick to brick or pour more and more concrete into the formwork until it is full. It therefore seems only logical that more and more companies in the building industry have discovered 3-D printing, as a modern approach to additive manufacturing. It also reflects the trend of automation to cope with high labour costs and the shortage of staff.
In building, 3-D printing is used in two main areas: for the manufacture of formwork and for the production of concrete elements. Concrete may face a number of different challenges. "If we are developing a concrete formulation for very thin printed formwork, the main objective is to ensure that the material is sufficiently flowable to fill the complex formwork without any gaps, at the same time as meeting the usual requirements in terms of processing time, strength, surface quality, etc.," says Oliver Mazanec, Head of Product Management Europe in the concrete admixtures business of Master Builders Solutions. "We have many years of experience with concretes that have extremely good flow properties and reach very high strength values. We have gained this experience on a number of projects including spectacular skyscrapers around the world. The requirements are very similar and the challenges mainly arise in connection with the specific details of the project. In close cooperation with our customers, we are searching for the best technologies to tackle these challenges."
Conflicting requirements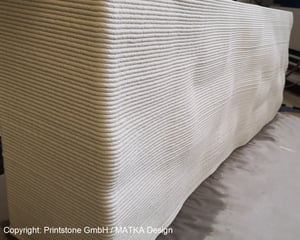 In contrast, the 3-D printing of concrete elements poses fundamental challenges: First, the concrete must be pumped to the nozzle. In the case of the biggest available printers, this is a distance of 40 meters while the diameter of the piper is only 40 mm. Such a ratio is a considerable problem for all concretes without the right rheology. In the case of the most widely used 3-D printing method, extrusion, the concrete must have proper consistency to pass through the nozzle without any problems and must then develop minimum strength to remain in shape without formwork. Sandro Moro, Construction Materials Innovation Manager Europe with Master Builders Solutions, describes the conflicting requirements: "In order to ensure workability, the concrete must be comparatively liquid but too much water would compromise its strength. In addition, the concrete must flow at one moment; the next moment, it must be set so firmly that the layer will retain its shape and support the next layers after a very short time without formwork. However, it must not harden to the point where the individual layers cannot bond effectively and just lie on top of each other as loose strings."
The challenge is to combine these conflicting properties and to find the "sweet spot" for each individual printing process. Both the viscosity and the yield stress play a key role," says Moro. "Cementitious materials are Bingham fluids that need a specific initial shear force in order to flow – without this force they will not change their shape. On the other hand, the flow speed depends on the plastic viscosity: controlling these two rheological parameters, the cementitious materials for 3D printing can be designed."
Admixtures create the required properties
This is where concrete admixtures come into play. They reinforce the natural properties of the concrete and add further properties which may seem contradictory at first glance.
"Some of our products are outstandingly well-suited for 3-D printing", says Dr. Oliver Mazanec. "This includes our tried and tested superplasticizers in the MasterGlenium and MasterEase series, MasterX-Seed hardening accelerator, MasterFiber fibres, MasterLife shrinkage-reducing admixtures and stabilizers in the MasterMatrix series." He adds that Master Builders Solutions cooperates with research institutes such as the Technical Universities of Brunswick and Munich as well as directly with customers. These are often pioneering start-ups that are continuing the development of innovative technology for the building industry. "Innovations are one of our core business drivers," says Roland Nowicki, Vice President at Master Builders Solutions Europe. "We consider 3-D printing as a promising tool with a remarkable potential to save time and resources. Our admixtures can make a major contribution to improving this technology and further establish it in the market. "