Low temperatures can have construction-site managers break into sweat easily. With Master X-Seed, however, winter concreting loses much of its menace. Annika Bantle, Pull Marketing Concrete Admixtures, Germany, Austria and Switzerland, explains how the innovative hardening accelerator works, what its benefits are, and how it revolutionizes the construction process in conjunction with digital technologies.
Annika, what are the challenges construction sites face during the winter season?

In many European countries, autumn and winter are synonymous with demanding weather conditions. Snow, ice, and below-zero temperatures, especially, can delay construction progress or, in the worst cases, halt construction altogether. This can jeopardize construction schedules.
What impact do such weather conditions have on concrete?
A basic requirement in concrete production is to ensure strength development. Low temperatures in winter are a major challenge for concreting because, as a rule, such temperatures delay concrete hardening. An even greater concern is protecting the fresh concrete from freezing up. In this regard, the time prior to the initial set is particularly crucial. Often, cost- and energy-intensive measures are employed to prevent freezing and ensure early strength. This includes heated ready-mix-concrete plants, heated formwork, the use of high-strength concretes, or the addition of accelerators. Conventional accelerators and anti-freezing agents, however, adversely affect both the workability and the final strength of the concrete.
What are the solutions Master Builders Solutions provides here?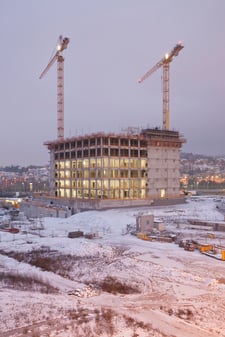 Master X-Seed accelerates the hardening process physically and makes it more predictable. The hardening phase starts at an early stage, with cement hydration providing the necessary heat development in the concrete. In this way, even at low environmental temperatures, the hydration process proceeds as if in standard conditions. At the same time, Master X-Seed prevents the detrimental effects of conventional, chemically acting accelerators. In conjunction with our MasterEase or MasterGlenium plasticizers, winter concretes with Master X-Seed achieve final-strength properties identical to those of concretes processed in warm-weather conditions – at the usual excellent levels of workability.
How does Master X-Seed work?
In an industry first, Master X-Seed permits the addition of crystal seeds – finely dispersed, synthetically produced calcium silicate hydrates in a ready-to-use suspension – to the concrete. These synthetic CSH crystals stimulate natural crystal growth in the fresh concrete and, as a result, accelerate the hardening process. The initial resting phase is shortened, and hydration starts practically immediately. Referred to as seeding, this technique substantially accelerates concrete hardening, in the early phases of cement hydration especially.
Is there a way for customers to precisely quantify their benefits?
Deutsche Doka Schalungstechnik GmbH has developed an excellent tool for this: Their Concremote concrete maturity calculator takes sensor measurements of concrete temperature and calculates strength development in the concrete element. In order to do so, a small cable sensor is fixed to the reinforcement or to the formwork prior to concreting. The results are then transmitted digitally. Reliably calculating early-strength development, helps determine precisely when to remove the formwork, ultimately resulting in shorter work cycles. Master X-Seed and Concremote perfectly complement each other, saving our customers time, reducing their costs, and optimizing their construction processes. This is why we have partnered up and are currently preparing two application workshops in Germany; set to be held in autumn together with concrete manufacturer Schwenk, the workshops will highlight customer benefits through presentations and practical demonstrations.
What topics will the workshop cover specifically?
Questions to be addressed include the suitability of concretes for winter construction; the way Master X-Seed makes the construction process more economical and more predictable; and the use of the Concremote concrete maturity calculator. For our practical demonstrations, we are preparing a variety of concrete mixes, half of which, respectively, will be stored at 'normal' environmental temperatures of about 15 degrees and in wintry conditions at the laboratory. Cubes made with these concrete mixes will then be used with the Concremote slab sensor to demonstrate its usage and to predict the acceleration in concrete hardening induced by Master X-Seed. Thus, participants will be able to see, right then and there, the benefits outlined in the presentations.