Hugely popular all over the world. Already known hundreds of years ago to the natives of South America like "food of the Gods". First introduced in Europe in 1550. Available in a broad variety of alternative flavors, recipes and forms.
Chocolate is worldwide appreciated as the treat that can soothe the mood, enhance a well-being feeling and furthermore it is proven to give lots of health benefits to the extent that some scientists believe that eating dark chocolate every day is even better than eating vegetables.
Personal taste & food safety
The most addicted chocolate lovers would possibly agree with these scientists, most of kids would very likely say they knew it already whilst most moms would totally disagree. Chocolate like any other kind of food is all about personal taste, no right or wrong in that. But there is one very statement all consumers and producers agree upon: food must be safe.
From the producers perspective preventing food-borne illness requires a rigorous and holistic approach from food handling to processing and storage. Food safety is such a sensitive and complex subject that several international and national authorities defined practices and routines to avoid potential health hazards and preserve food hygiene. The regulations impact on the overall set up of the production site including the floor.
Barry Callebaut, the biggest chocolate production site in the world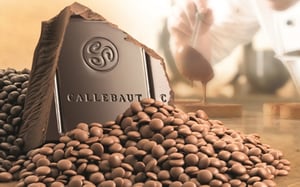 Ensuring a top quality product in compliance to all food safety related regulations is the commitment of the Barry Callebaut Group. Callebaut is a company founded in 1911 which merged with the French chocolate maker Cacao Barry in 1996. By growing and expanding globally the purpose and challenge remained to delight consumers with the finest Belgian chocolate. The founder of the company, Octaaf Callebaut, invented the first recipe and started the production of delicious chocolate in a plant in Wieze which developed along the time to become the biggest chocolate production site in the world. It is in this plant that in 2015 the old concrete slab on second floor in the packing areas and the storage for packed milk powder failed due to heavy traffic and missing details during the construction period. Specific request from the Barry Callebaut Engineering division was to replace the existing concrete floor in those areas for a total surface of 1200m² with the most hygienic, tough and durable flooring solution in the market. This in order to ensure no delamination or cracking, higher abrasion and impact resistance than concrete; to avoid food contamination on the aroma or taste of chocolate or milk powder; to preserve food safety in compliance with HACCP and Indoor Air Quality specifications; to create a completely safe work environment with a defined anti-skid profile (DIN NORM 51130). The answer to their needs was Ucrete industrial flooring and the specific system installed is Ucrete DP10 RED. But the performance of Ucrete go even beyond the Callebaut's requests!
Ucrete, the preferred flooring solution of the Food & Beverage industry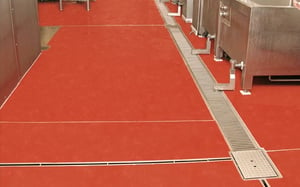 Ucrete industrial flooring is the top notch solution from Master Builders Solutions preferred by the Food & Beverage industry because it guarantees no food contamination due to floor failure. In fact, Ucrete offers endurance over decades and meets the most demanding hygienic requirements as it can be cleaned easily and effectively as stainless steel. All Ucrete floors are dense and impervious throughout their thickness. Ucrete is essentially inert, it does not support bacterial or fungal growth, is anti-microbial without the need for biocidal additives. Ucrete is accredited for use in food facilities, HACCP and now also Halal certified. Additionally Ucrete is odorless, flavor-resistant and cause minimal VOC emissions; the Eurofins Indoor Air Comfort Gold certificate confirms that Ucrete meets all European emission standards for indoor floors. Ucrete also contributes to the U.S. Green Building Council's LEED score, with this respect a Product Information Statement for LEED® New Construction (NC) Version 3.0 Credit Documentation is available for all Ucrete flooring products and systems.
To know more about all Ucrete flooring systems and their performances please visit www.ucrete.com