As one of the most mature renewable energy industries, wind power has already proved its ability to provide safe, efficient, clean, and increasingly affordable electricity. Yet, to make it possible, especially in countries with a limited availability on land, the wind farms need to be constructed offshore, significantly increasing the challenge of a successful installation. In fact, as Richard Elins, Global Project Delivery Manager - Master Builders Solutions, explains: "The construction of offshore foundations is challenging because you are building something in a harsh environment, where you need to consider the unique forces acting on a foundation by the wind turbine".
Northwester 2 windfarm: the value of knowledge sharing
A good example of how to overcome the challenges of wind turbine installation is given by the successful cooperation and knowledge sharing between Master Builders Solutions experts and Jan De Nul Group - a specialized provider of services for the offshore market based in Aalst, Belgium - who worked together on Northwester 2, a windfarm off the coast of Ostend, Belgium. For this project a pool of experts on both sides worked together before the execution phase to identify the best solution for the job and complete in a short timeline the installation of twenty-three foundations for V164.9-5MW turbines and one offshore substation of the Northwester 2 wind farm.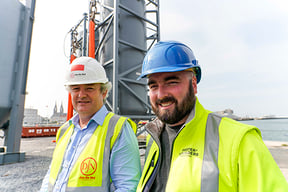 Engineers of Jan De Nul Group were specifically searching for a high performance grouting solution that was sustainable, cost efficient and reliable over time. MasterFlow 9800 from Master Builders Solutions was selected for this project, being able to meet and exceed all these requirements. On top of technical performances, one of the main reasons why Jan De Nul Group decided to choose MasterFlow 9800 has been the direct dialogue and collaboration established with the experts of Master Builders Solutions. Carl Heiremans, Business Development Manager, Jan De Nul says "when we apply MasterFlow 9800 we don't just expect a product delivery. We also wanted to understand the technology to apply it. And that's what we got."
MasterFlow 9800: grouting solution for offshore wind turbines installation
MasterFlow 9800 is a bulk supplied high strength grout in the Master Builders Solutions portfolio for the wind industry that guarantees the fastest, safest, and most cost-effective installation of offshore wind farms. Because of the bulk supply aspect, the continuous mixing and pumping equipment as well as the early strength development, MasterFlow 9800 ensures a relevant advantage during the building process, helping to reduce the total construction time and therefore the costs.
By applying MasterFlow 9800, Jan De Nul Group reduced the time of the grouting works by approximately 50% and saved 15% installation costs. Thanks to its proven long-term durability, MasterFlow 9800 will also help the operator of the wind farm by ensuring up to 25 years maintenance free operation, thus contributing to a sustainable energy solution.
Quantified Sustainable Benefits campaign
The success story of MasterFlow 9800 and the Northwester 2 windfarm is part of the Master Builders Solutions "Quantified Sustainable Benefits" campaign, launched across Europe in 2017. The campaign focuses on projects where customers were able to increase their productivity while, at the same time, reducing costs and emissions thanks to the advanced chemistry provided by Master Builders Solutions.
More information on the whole Master Builders Solutions portfolio for the wind industry can be found here:
https://www.master-builders-solutions.com/en-gb/solutions/for-wind-energy-foundations-and-towers