The path to a sustainable future for Design & Manufacturing encompasses many components.
The trends indicate that through much greater levels of digitalization, our economies can become more resilient. Resilience is a key component on the path to sustainability. With sustainable design and construction, the industry works to protect our environment and resources from possible detrimental effects of building construction and operation, and with resilience, the materials seek to protect buildings and infrastructure from the environment. Digitalization is one of the main paths to connecting these factors.
In this first installment of this series on sustainability, resilience, and digital transformation in construction, we will review what is happening around the globe to further push towards reaching goals such as the United Nations' Sustainable Development Goals, the EU's aim to be climate neutral by 2050, the US Net Zero initiatives and the World Green Building Council's Net Zero Carbon Buildings. These examples of initiatives are all driving forces for the construction industry to take immediate action and why Master Builders Solutions provides a large portfolio of products and systems for sustainable and resilient construction.
Across the globe conversations continue and we see governments and legislative bodies mandating and regulating the planning and construction of publicly funded projects to be delivered using machine readable data, usually in the form of BIM (Building Information Modelling). Because BIM technology is multi-dimensional modelling, it allows a whole set of interactions and collaboration between different stakeholders all along the design and construction process. The virtual 3-D model which is created from data elements carrying attributes of materials and systems can help prevent errors and automatically calculate the precise amount of material needed for construction, before construction begins. This helps reduce material waste and optimize costs.
Governing bodies hope that with the streamline processes and using BIM data, there will be
More efficient use of public funds

A reduced level of risk through more transparent processes

A boost in economic growth for the construction sector

Reduced environmental impact
When using open-source formatting data (.ifc files), the resulting files will likely also provide important information for post-project stages like operations and maintenance. This type of information can increase the chance of a more sustainable life cycle of the project.
Let's look at what individual countries are doing to drive the adoption of Building Information Modelling (BIM) and where the Architecture, Engineering and Construction industry is utilizing it to aid them in designing and building more sustainably. The color-coded maps show the level of adoption in various parts of the world:


Europe the largest field of construction to require documents to be delivered using BIM is infrastructure. The UK were the first to adopt the mandatory use of BIM.
Although several northern countries appear to have no mandates, they have embraced BIM, and are actively using it for life cycle and asset management with Norway considered the leader.
Most countries are using IFC, or Industry Foundation Classes, the standard for openBIM data exchange in their BIM models.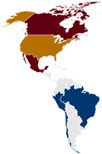 Canada is the only G7 country without any national BIM mandate. North America, although advanced in the use of BIM, only requires delivery of BIM documents for General Services Administration projects and the US Army Corps of Engineers.
Both Peru and Brazil have implemented mandates on public projects. In Chile the private sector is in the lead on requiring BIM delivery.

Asia Pacific regions currently have no mandates but are working on various BIM adaption strategies.
Japan's initiatives are the strongest with a focus on infrastructure projects.
Australia has a focus on government funded projects >$50 million.

The Middle East is at varying stages of BIM adoption, most similar to Europe.
In 2020, Russia signed rules around BIM for Urban Planning.
Africa is actively working on BIM initiatives.
The design and construction industries are finding BIM to aid their sustainability initiatives primarily with the use the virtual three-dimensional BIM models. They use the data in the model to analyze and evaluate materials and systems which are planned to be implemented in a project. By utilizing a variety of digital tools and programs, both designers and contractors can:
Perform energy modelling calculations

Optimize site orientation and massing

Compare different materials to find what best suits their sustainable requirements

Develop & test site logistic plans

Perform water and day lighting analyze

s

Perform clash checks and construction optimization
These calculations at the design stage allow informed choices reducing the amount and type of materials needed. In turn, this process reduces waste and can contribute to a smaller carbon footprint. Optimizing the design before construction starts is the best way to reduce risk and save costly mistakes during construction. Delivery schedules and staging can also be optimized. During the most expensive part of a project, operation and maintenance, reduced energy and water consumption can have a significant impact on overall sustainability. Knowing what materials and systems are constructed in the project allows for efficient access to general and seasonal maintenance, monitoring building performance and alterations which may be needed in the future.
The growing eco-awareness and importance of materials' resilience across the key stakeholders of government, industry and the public, compounded by the impending climate changes, emphasizes the need to act now. Manufacturers are being called to provide digital information about a product's components. Master Builders Solutions is answering this call with third-party validated digital tools and services to evaluate and compare the sustainability of products. Data, in the form of BIM objects, will help stakeholders as they monitor and measure the environmental impact of a project. In this way digitalization and Master Builders Solutions can support a path to a measurably more sustainable future for design, construction and manufacturing.