Spanish not-for-profit organization Lantegi Batuak helps adults with physical disabilities, learning difficulties and mental health conditions to learn skills that will help them find employment. Read on to discover how our MasterTop antistatic flooring solution has provided the right surface for electronics facilities at three of Lantegi Batuak's centers.
An organization with a difference
Lantegi Batuak aims to create quality job opportunities for the people it employs. The organization provides training and support to improve trainees' skills, helping them achieve social inclusion, personal development and a better quality of life.
Located in the Biscay region, Lantegi Batuak works in partnership with public bodies and social and business organizations. It has a network of centers and services and places a high value on creating a responsible business environment.
Job roles in competitive sectors are matched to each individual's profile and skills within Lantegi Batuak's industrial centers, service teams and support and management areas. Trainees may move on to work in other companies through the Supported Employment program.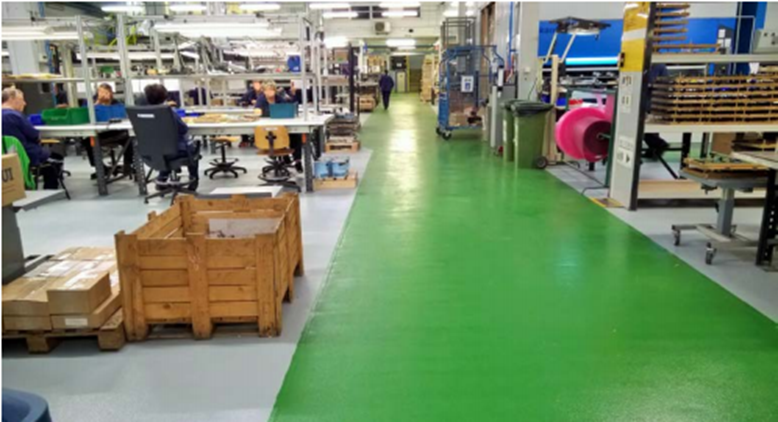 Meeting the challenges of electronics assembly
One of the key skill trainees can learn through Lantegi Batuak is electronics assembly, which presents two challenges when specifying flooring for the electronics areas in new facilities.
Firstly, the circuit boards and devices being produced are sensitive to electrostatic discharges that could cause damage during the assembly process and present electrical hazards. The floor covering must therefore be able to divert any electrical charges to the ground.
Secondly, the wellbeing of trainees is paramount. A non-slip surface is needed to create an environment where trainees can safely move around the workplace, with minimal risk of slips, trips, and falls.
Three centers, one source of flooring
Master Builders Solutions has supplied MasterTop antistatic flooring solutions to three new facilities at Lantegi Batuak over the past decade.
The Getxo center in Bizkaia, opened in 2011, includes an employment training service with places for 100 adults with learning difficulties. Activities at the Getxo center cover several requiring antistatic flooring: document and electronics management, wiring, packaging and logistics operations. Here, we recommended installing MasterTop 1270 AS-R, which complies with the relevant European standards for antistatic flooring and slip-resistance (EN1081 and IEC 61340-4-5, and UNE-ENV 12633: 2-3).
In 2017, the Sestao centre in Bizkaia required conductive flooring for its 19,000 m2 electronic assembly area, where circuit boards would be manufactured and wired for use in the renewable energy sector. Here, MasterTop 1273 AS-R in light gray matched the criteria for conductive flooring with slip resistance, again meeting the relevant standards.
Also in 2017, the new Ribera de Axpe facility in Erandio opened, with 1300 m2 of MasterTop 1273 AS-R providing the best surface for electronic equipment production. The colour combination used provided clear demarcation between the light gray assembly zones and vivid green walkways. We achieved the antistatic finish expected by the customer paired with the anti-slip requirements for fall prevention and colour choices.
An attractive, long-lasting flooring surface
Choosing specialist antistatic flooring for electronics manufacture needn't involve sacrificing other performance characteristics. With both MasterTop 1270 AS-R and MasterTop 1273 AS-R, antistatic and slip-resistant properties are combined with a pleasant, aesthetic, seamless and durable finish that is easy to clean and maintain.
With MasterTop, it's possible to create a safe and pleasant working environment without any compromise. Find out more about our antistatic systems here.