Every driver has experienced traffic jams and delays due to diversions. Fortunately, most of these are related to road works to maintain the structure. In case an infrastructure is not proactively maintained roads can crack and bridges can collapse. A sad example of this is the sudden collapse of the Fossano viaduct in Northern Italy in 2017. Fortunately, no casualties were encountered as no cars were going across or under the viaduct at that very moment. However, recovering the traffic on this heavily used ring road was essential, while at the same time avoiding the danger for similar events in the future. Therefore, the operator was looking for a solution to repair the structure and implement the right measures to protect the viaduct against any further damage.
Reconstructing with sustainable benefits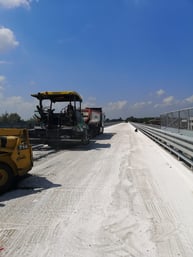 Reconstructing the viaduct included the casting of the new concrete slab and the installation of the barriers. According to standard EN 1504 parts 2 and 3 the viaduct could be reconstructed in several steps. Some parts of the structure were refurbished using MasterEmaco S 444 FR, R4 class, a concrete repair mortar reinforced with metal fibres. Then the surface was reprofiled and levelled using MasterEmaco S 950, an R3 class polymer modified concrete repair mortar reinforced with PAN fibres. Afterwards MasterSeal 924 thermoplastic tape was used to seal the movement joints. For the waterproofing of the bridge deck MasterSeal 6100 FX was used, a single-component elastic membrane, to protect the area of 30,000 m2 against degradation caused by water. MasterSeal 6100 FX was applied with a thickness of 2.5 mm and approx. 2.35 kg of product per square meter. It offers high waterproofing capabilities, even up to 5 bars of positive pressure. This waterproofing prepared the deck for the application of hot rolled asphalt.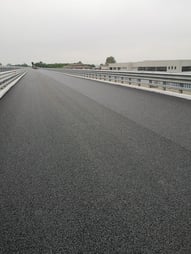 The junction of Marene of the Fossano viaduct was reopened in May 2019, 2 years after the collapse. One year later, in August 2020, the rest of the ringroad was put back into operation. The complete solution covering concrete repair, surface waterproofing and joint treatment from Master Builders Solutions provided many valuable benefits for the customer to operate the structure in the future. In addition, the use of MasterSeal 6100 FX brought sustainable benefits: first, the low consumption of the product reduced costs and application time, compared to other cementitious waterproofing membranes. This allowed a faster return of the viaduct into operation and, above all, lead to CO2 savings as about 30 tons of waterproofing material were saved in this case thanks to the use of MasterSeal 6100 FX. Furthermore, it is resistant to asphalt installation up to 160º C and maintains A4 crack bridging class and good adhesion after cooling of the asphalt.
Interested in further information on concrete repair? Have a look at this guide: When speed matters - a guide to fast repair solutions