Posted by Albert Berenguel - 28 October, 2019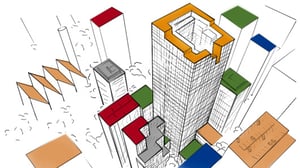 The oldest roof found by archeologists is a mammoth skin discovered in Siberia (about -40,000 BCE). Little by little our ancestors improved roofs; thatch, straw and bark, sometimes mixed with asphalt were all tried out before the Romans really improved roofing technology with roof tiles and slates. New waterproofing technics using copper and lead were invented much later during the Baroque period. There have been many changes since then, but the basic requirement is still to have a cover like a "skin" to protect not only the exterior and interior as well as all goods and equipment inside the building from deterioration as a result of the effect of the weather conditions. As part of the building envelope, and being indeed its top surface, the roof needs a durable waterproofing system adapted to temperature changes and changing environmental conditions as well environmental aggressions such as pollution and acid rain to ensure the durability of the building.
Roofs have unlimited needs, complexity and possibilities
In first place different weather conditions such as - rain, snow, wind and moisture affect each roof in a different way depending on its location - (high mountain, marine, industrial or urban surroundings) - and the season of the year.

Non-accessible, accessible only for maintenance purposes, for pedestrian or even vehicular traffic, roofs may be subjected to various types of user loads during their working life.

Roofs range from flat roofs with a slope of less than 5% which may be exposed to standing water or snow, to pitched roofs with more than 45% slope where precipitation is drained more rapidly and easily. Or architectural roofs that may have complicated shapes (or multi-pitched roofs) with several detail points to be solved.

A roof may also be made from different materials, e.g. concrete, metal, tiles or bituminous sheets, largely as a result of local traditions and availability of raw materials. On refurbishment projects, roofs may also feature finishing layers based on several different technologies.

Finally, roofs may contain several installations, vertical elements, drainage outlets, or supports, requiring special treatment to avoid risky water penetration and concentration of tensions.
Waterproofing systems for roofing applications must provide durable protection against all the atmospheric conditions and mechanical loads mentioned above. These systems also need to allow efficient installation regardless the shape of the roof, its specific substrate and the details of a roof.
Is there a solution that meets all these requirements?
MasterSeal Roof systems provide the right solution for all types of roof.
MasterSeal Roof systems form a fully bonded, seamless waterproofing membrane that avoids welds and seams that typically form the weak spots of any waterproofing system.
They have a clear advantage over conventional waterproofing sheeting especially in the case of roofs with attachments, penetrations and complicated structures. In many cases, leaking roofs can also be repaired without removing the old waterproofing layer. This offers clear time and cost savings, including a reduction in the cost of disposing of the old membranes.
Thanks to a complete primer toolbox, MasterSeal Roof systems can be installed on most substrates, including concrete, built-up felt asphalt and timber substrates.
Finishing with MasterSeal topcoats provide the necessary protection against all weather and mechanical demands, even under trafficked areas in parking decks (in this case under MasterSeal Traffic brandname).
Examples of MasterSeal Roof applications can be seen in: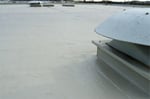 Industrial building in Ireland. 2000 m2 in a very humid climate, installed in 2012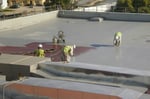 Industrial building in Spain. 600 m2 exposed to marine environment installed in 2013.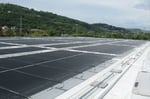 Warehouse in Italy installed in 2010. Application of 6000 m2 on bituminous sheets using a special primer.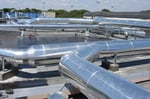 Non-residential building in Italy. 5.000 m2 installed in 2008 on a roof with air conditioning and technical installations.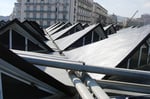 Train station terminal in Italy. 25.000 m2 installed in 2008 on an architectural roof.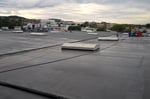 Shopping Mall in Norway. 20.000 m2 installed in 2016. Exposure to cold climate and snow.