Trivago is one of the world's largest hotel search engines, and when it needed new global headquarters for its growing team, the end results were stunning. Find out how MasterTop had a part to play in creating the right aesthetics with visually appealing, hygienic and sustainable flooring systems...
In the art zone

Trivago's choice of Düsseldorf, Germany, as its headquarters was a great fit for a company with a modern culture that puts the emphasis on creativity and innovation. Düsseldorf has the accolade of being included in the top 10 most livable cities in the world. It's also a center for art in Germany, being nationally and internationally renowned for its vibrant art scene with around 100 art galleries to visit.
The Trivago campus is situated on the MedienHafen – the harbour area known for its cutting-edge contemporary architecture. The harbour is home to over 700 companies, as well as some of the city's best and most popular restaurants and bars.
In such an illustrious setting, Trivago's headquarters needed to make an impact. It features two organically shaped buildings with open spaces between them. The architecture creates an instant impression, thanks to the impressive horizontally structured facades with protruding white balconies, while terraces and walkways add more visual variety.
The art of flooring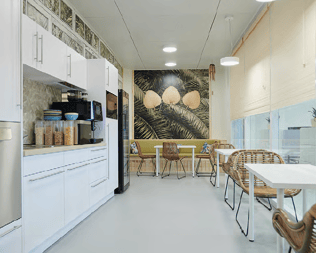 The campus's first phase includes a six-floor building that opens up towards the harbour basin, creating a spacious and pleasant environment with space to accommodate around 2000 employees. Completed in 2018, the 26,000 m2 office area provides creatively designed rooms, a unique cafeteria with food trucks and various show kitchens, green outdoor areas, and an underground car park with 500 spaces, water features and private fitness facilities, as well as a jogging track on the landscaped rooftop terrace.
As Trivago is looking to offer employees a good work-life balance, getting the flooring right was all part of the equation. That meant dampening the noise from foot traffic in hallways and offices for an aurally pleasant environment while making sure that flooring gave high comfort underfoot. For aesthetic appeal, it was important to incorporate a broad range of flooring colorways to live up to the eclectic interior design ethos. Flooring surfaces had to be smooth and seamless, durable and resilient, with a low-emission surface for optimal indoor air quality.
MasterTop flooring systems fulfilled the highest requirements for aesthetics, hygiene and sustainability. Both MasterTop 1324 and MasterTop 1326 were selected to create a colorful, safe environment. For zones needing a more robust solution, MasterTop 1728 was chosen.
From the perspective of keeping floors pristine into the future, the MasterTop 1300 systems provided a smooth surface with high mechanical and scratch resistance, which is easy to clean.
Altogether, 12,250 m2 of decorative MasterTop flooring systems were laid throughout the building, including 500 m2 of MasterTop 1324 in the foyer and 8,500 m2 MasterTop 1326 from the ground floor to the fifth floor. MasterTop 1728 was installed on seven staircases and in the technical rooms in two basement areas, totalling an area of 3,250 m2.
Sustainable solutions

As a sustainable building, the Trivago facility was able to achieve a LEED Gold rating through the architect's material selection and design. In addition to looking good, MasterTop 1300 flooring systems contribute to sustainability, having the highest possible rating of A+ in the British Research Establishment (BRE)'s Green Guide, which gives designers and specifiers guidance on the best environmental choices.
The Trivago project in Düsseldorf was completed in 2018, and Trivago welcomed its growing global team to the offices, offering the space to enjoy a high-quality work experience with visually appealing, resilient flooring to match!
You can find out more about MasterTop decorative flooring systems here!
Download our PUre Floor Book here!