Education stretches students to rise to the challenge of achieving the best base for their future. To support that, MasterTop's flooring solutions provide long-term performance at the highest level: our flooring contributes to the creation of cutting-edge education facilities, ensuring that students can enjoy an ecologically friendly, inspirational and creative learning environment.
Every educational establishment has to meet the needs of a large number of people using a broad mix of facilities, from learning spaces such as classrooms, lecture theatres, music rooms, laboratories and libraries to sports halls, washrooms and changing rooms, kitchens, canteens and staff rooms. At the heart of all of this is the need for a safe, attractive, hard-wearing surface to walk on.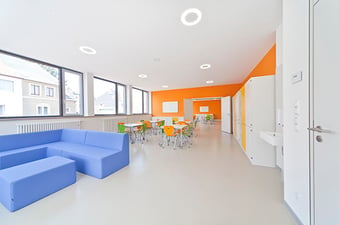 Getting the flooring right provides a practical foundation on which to deliver learning, and specifiers have many different factors to take into consideration to accommodate the requirements of each different zone. What's needed is a flooring range that can be used anywhere – and this is where called MasterTop performs to the maximum.
Good aesthetics help learning
A colourful, attractive and functional floor contributes to setting the tone for a positive learning environment. Choosing a flooring system with design flexibility allows the creation of a pleasant and positive environment, giving the option to use colour to stimulating or calming effect. With a liquid-applied flooring like MasterTop, you can even create patterns that become a monolithic part of the surface, creating a piece of art underfoot.
Keeping the noise down
Whether it's a nursery, a school or a college, educational establishments have one thing in common – they can get very noisy! When lots of people are moving from room to room, playing or chatting, a flooring system that offers sound-dampening properties can make a big difference, creating gentler acoustics and making it easier to learn.
Safe, fresh and highly cleanable
Unsurprisingly, keeping everything clean is always front of mind in an educational environment, because of the large number of people using each room day to day. Younger children, in particular, are likely to spend some time on the floor as they play. Under such intensive use, a flooring system such as MasterTop is an invaluable addition, as it is not only easy to clean but homogenous, offering a user-friendly, seamless solution beyond the incorporation of essential expansion joints. Our floors are resistant to mechanical and chemical stress, meaning that they can withstand a stringent cleaning regime.
Surfaces for special facilities
Where special activities take place, the flooring must be fit for purpose, and here the full MasterTop range comes into play. For example, in research areas where chemicals are used and anti-static properties are required, MasterTop 1328 Antistatic has the properties to resist chemicals and mechanical loads while providing the appropriate level of anti-static and fire protection.
In libraries, music rooms and reading rooms, getting the acoustics right is essential – in this scenario, MasterTop 1327-20dB brings sound-deadening properties and comfort underfoot, reducing the noise from footfall. The 20-decibel noise reduction achieved by MasterTop 1327-20dB is an exceptional achievement for a liquid-applied flooring system as, normally, only carpets can offer this level of impact sound dampening.
Meanwhile, in canteens and cookery classrooms, MasterTop 1324 is designed to resist spills and has the right level of slip resistance to be safe underfoot, even when wet. In wet zones, MasterTop wall systems are available for visual continuity and practicality, while washrooms and changing areas using MasterTop 1324 R meet high standards of hygiene and safety, with inbuilt slip resistance. For basements and technical zones, MasterTop 1785 provides a tough surface.
Right for refurbishment
In the coming years, the allocation of resources to educational infrastructure is likely to follow a general trend of refurbishing existing establishments rather than investing public spending in new-build projects. As a liquid-applied system, MasterTop can accommodate complex geometries and is quick to install, making it a straightforward solution when adapting and enhance existing buildings.
An eco-friendly choice
MasterTop flooring systems are included the Building Research Establishment (BRE)'s Green Guide, which gives designers and specifiers guidance on the best environmental options. With flooring options including A+ rated systems, MasterTop can help building projects to gain credits to achieve BREEAM certification.
Learn more about flooring in education facilities here!