Can innovations grow old? One would probably say, "no" of course they cannot, innovations should be new and fresh. Well, sometimes things are different – our MasterSeal 6100 FX was launched in 2012 and has been an innovative waterproofing solution for 10 years now and is still unmatched in both its technical performance as well as its contribution to sustainability.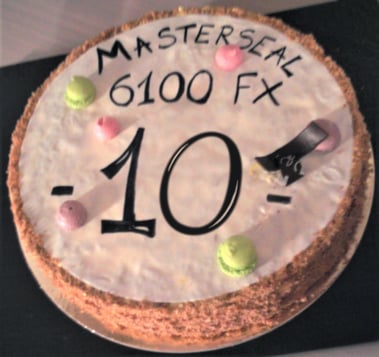 Happy Birthday
Let's quickly summarize what has made and still makes MasterSeal 6100 FX so unique:
One-component formulation with high elastic properties: to use, simply mix with water. Reduces storage and transport costs as well as packaging waste.

Low density / Lightweight formulation: Low consumption, high yield (up to 85% more compared to other waterproofing slurries) saving time in the application.

Elastic down to -10 °C: Highly durable offering protection through reduced cracking from embrittlement.

Rapid curing: Allows early return to service. Tanks can be filled after only 3 days.

Waterproof at 2 mm thickness: Resists up to 5 bar (50 meter head) of water pressure.

Excellent adhesion

Elasticity maintained in immersion

Breathable: Water vapour permeable.

High resistance to carbon dioxide diffusion: Protects concrete from rebar corrosion. A 2 mm coating provides an anti-carbonation cover equivalent up to 40 cm of concrete.

Acts as a radon barrier: protecting your health.

Sulphate and salt resistant

Reduced risk of efflorescence

UV resistant, light grey and white versions available: can be used as final coating in exterior applications.

No ammonia smell and very low emissions: Can be applied in closed spaces.
Eco-Efficient: Waterproofing with MasterSeal 6100 FX brings significant cost savings and a high degree of eco-efficiency as it:
- reduces greenhouse gas emissions by up to 70%*
- reduces acid rain emissions by up to 80%*
- reduces summer smog (NMVOC) by up to 90%*
- reduces ozone hole depletion by a minimum of 70%*
(* compared to other waterproofing technologies)
Read more about the sustainability story of MasterSeal 6100 FX here: https://blog.master-builders-solutions.com/en/1mio-m-waterproofed-concrete-saving-17-mio-kg-co2eq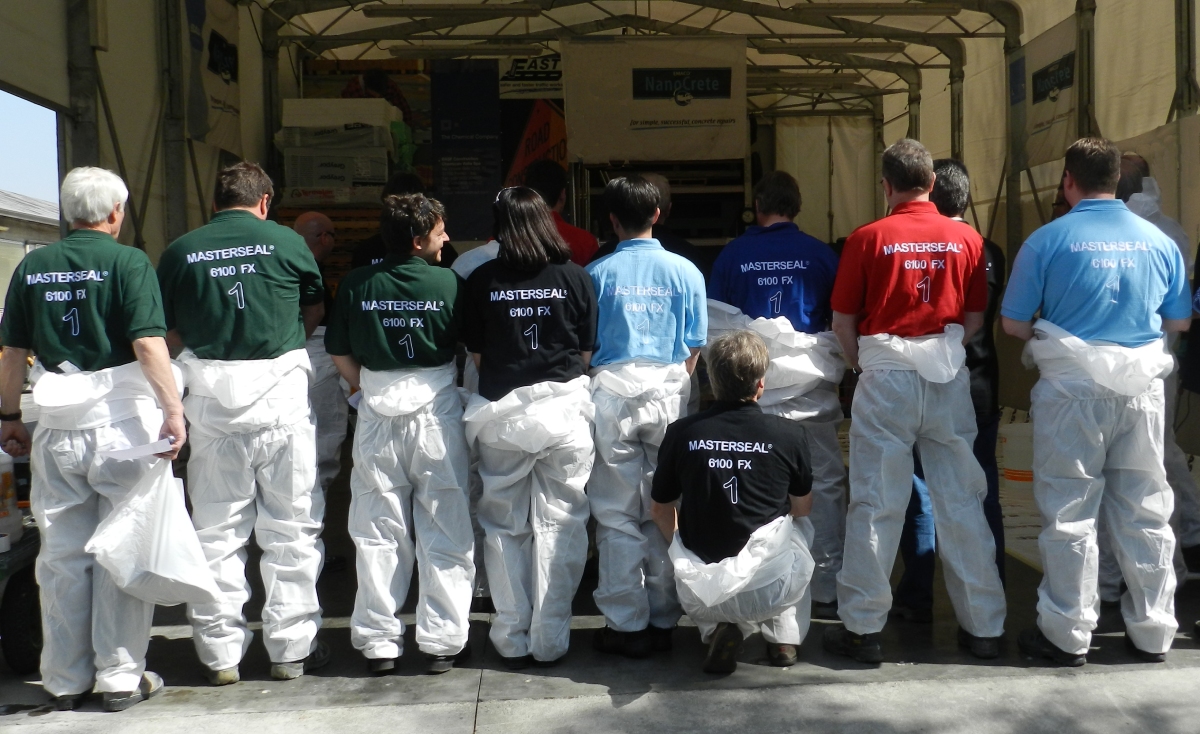 "Hands-on" training during the 2012 European launch event of MasterSeal 6100 FX in Treviso / Italy.
After its launch in 2012, a difficult economic time for the European construction sector, MasterSeal 6100 FX nevertheless quickly picked up in sales and became a real waterproofing and concrete protection star in our portfolio. The unique formulation is now manufactured at five locations throughout Europe with identical performance guaranteed to meet the constantly growing demand. Local production close to the numerous job sites also contributes to sustainability as we shorten delivery distances thus saving resources and reducing CO2 emissions during transport.
In addition to its unique properties and the reduction of emissions in the construction phase, the sustainable benefits of MasterSeal 6100 FX last throughout the service life of a structure protecting it and enhancing its durability.
It is not always apparent, but durability is an essential component of sustainable construction. This is because, during the construction phase, planners concentrate on using products with the lowest CO2 footprint. This is not the full picture, and it is very important to consider the whole life cycle and the possibility to save products, energy and other resources in repair and eventually reconstruction works.
During these 10 years, the number of jobs done with MasterSeal 6100 FX have grown every year. As a few examples, see in the following blog posts some significant jobs completed:
We at Master Builders Solutions are confident that there is still no competitors' product out in the market that is close to the properties and features of MasterSeal 6100 FX, so we are still proudly calling this "teeny product" innovative and fit-for-future.
Let's now celebrate and further monitor how old clever innovations may get!
Read more about MasterSeal 6100 FX here: https://www.master-builders-solutions.com/en-gb/products/masterseal/masterseal-6100-fx
More information about MASTERING WATERPROOFING campaign: https://waterproofing.master-builders-solutions.com/