Interview with Mike Pauwels - PEC International.

Cementitious products have been used in waterproofing for more than 100 years, well before other popular liquid technologies like polyurea were developed. (You can learn about the history of polyurea technology here).
In this interview, we talk to Mike Pauwels, the second-generation leader of PEC International, a company founded by his father-in-law in 1976 in Nieuwkerken-Waas, near Antwerpen in Belgium.
Like Stratis Goneos (see the interview here), PEC International is one of the pioneers of waterproofing with cementitious products in Europe. The company's early work with Master Builders Solutions' Thoro range of cementitious waterproofing products gave it a reputation for quality - and opened the door to a whole new business.
"We started as a refurbishment contractor, Solar NV, back in 1976, using Thoro products for our jobs. Back then, the products were produced in the US and shipped to Europe.
"Other contractors noticed the outstanding performance of the products we were using, and wanted to use them as well, so we started selling materials. First, we sold locally and then, to cover a larger area, we had to establish a dealer network."
PEC International is a company that has evolved over the years with its main activity today being the distribution of products:
"In 1991 our sales activities were transferred to our sales company, PEC international, and today we are a wholesaler and distribute Thoro and our other construction specialities through a network of dealers. With 46 years of history with Thoro products, we are proud and thankful that most of our dealers who started in the early 1980s are still our customers today.
"At present, we don't do jobs ourselves anymore; we have our dealer network and specialized approved applicators who use our waterproofing products mostly for basements, swimming pools, reservoirs and other structures. We also supply a similar volume of products for the repair of concrete balconies, concrete floors and other concrete structures."
Giving new life to basements and cellars
During his extensive experience in the construction sector, Pauwels has quite frequently come across buildings that are over 50 years old, such as those built in the 1960s and 1970s and which have problems in their basements, even ones which had historically been dry.
"The problems we see in basements between 50 to 70 years old vary quite a lot. In our area, most of these underground basements were built with red bricks. Many of them have problems with sulphates, which crystallize in the existing sand and cement renders and cause them to crack and deteriorate…"
Further issues occur due to the installation of new infrastructure and changes in local hydrology: "Another typical problem we often see in old buildings is where basements that have always been dry start having problems with water infiltration after roadworks or the construction of new sewers, due to cracks and a higher groundwater level.".
With a history of nearly 50 years, involving hundreds of waterproofing projects, we asked Pauwels what his most memorable ones are:
"We have so many references in waterproofing, but if I had to highlight some, I'd say waterproofing tunnel that connects two parts of a hospital, a historic basement with huge water problems in our hometown or an underground car park in Brussels which we treated with Thoroseal WR, a cement-based waterproofing render."
A second underground car park in Brussels is pictured below, involving around 1,000 m2 of waterproofing, using a variety of products.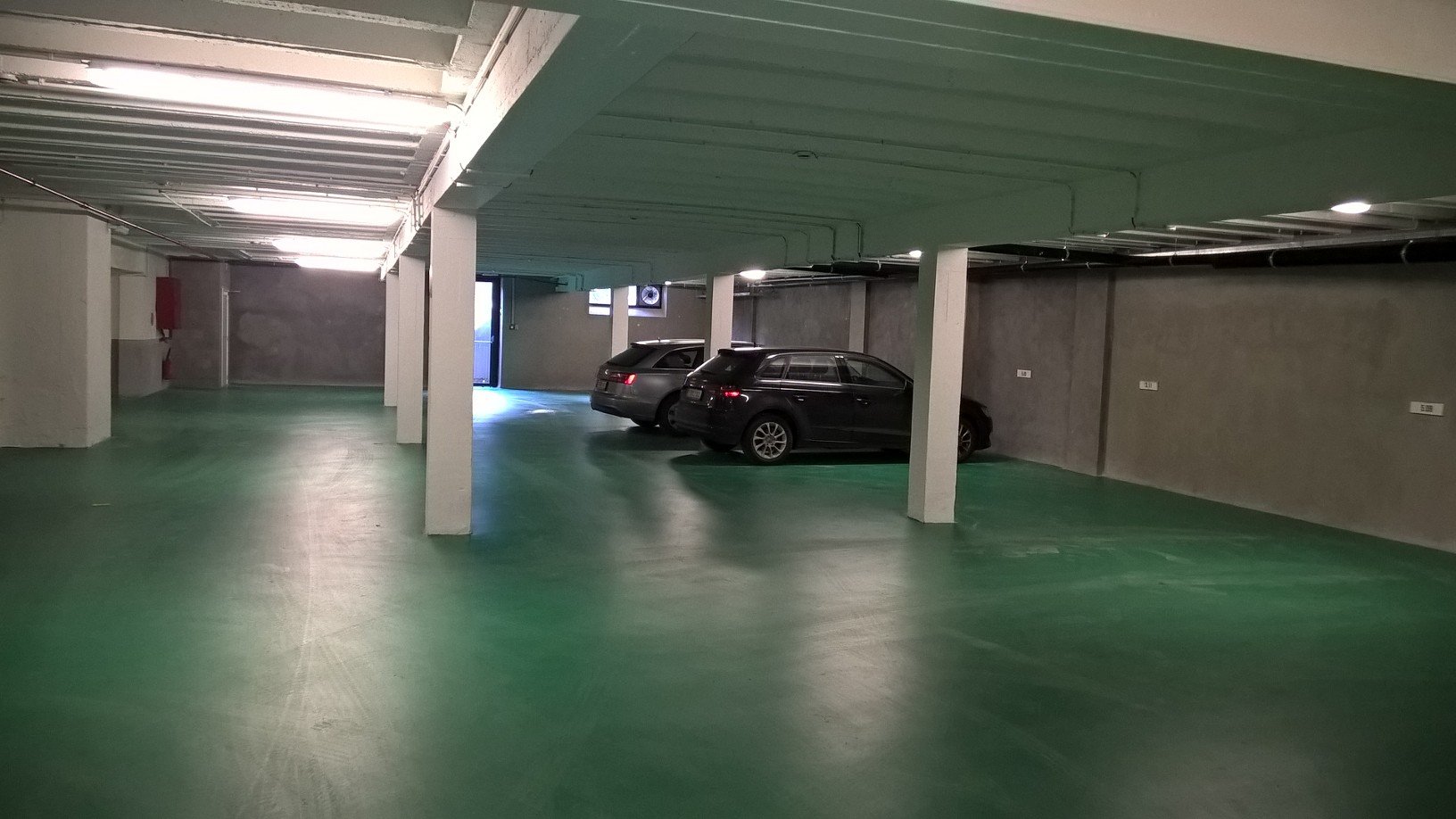 Looking ahead to the digital future, those 50 years of history must merge with new processes and technologies
"The modern digital age certainly has advantages and makes communication and exchange of information fast and easy… I think the digital age offers opportunities for concrete structures, for example, the monitoring of concrete reinforcement to see where and when repair is necessary." However, in some types of jobs, technology cannot replace the human eye and experiences: "For waterproofing, the solutions we offer require on-site inspections in many cases. Digital applications cannot replace this."
Pauwels is very clear about the importance of the quality of workmanship: "… let's not forget the importance of practical training, because we will always need trained and skilled professionals to apply the products. That, for sure, is an important challenge for the construction business."
His last sentence emphasizes how tradition meets the future, which is the opportunity for new generations like him who have inherited successful companies. "For sure, the internet and digital communication are great tools that we all use every day. In combination with the recognised quality of Thoro products, it helps us to deliver high-performance solutions to our clients."
MASTERING WATERPROOFING celebrates our waterproofing expertise which stretches back over 100 years. We have been creating waterproofing products since Master Builders Inc was founded in Cleveland in 1909, and Standard Dry Wall Products (which later became Thoro System Products) began trading in Pennsylvania in 1912 and we recognise the perseverance and consistency of the application companies that have set the benchmark in the construction market with their expertise and long history of quality.
Thank you to PEC International for the many years of collaboration and especially to Mike Pauwels for helping us with this interview.
More information about PEC International: https://www.pecinternational.com/nl/