Interview with Manuel Díaz - AZUL CONSTRUCCIÓN REPAIR
Our MASTERING WATERPROOFING campaign, launched on March 1st, celebrates our waterproofing expertise which stretches back over 100 years. We have been creating waterproofing products since Master Builders Inc was founded in Cleveland in 1909, and Standard Dry Wall Products began trading in Pennsylvania in 1912.
But masterful products are no good without master installers to apply them. So, MASTERING WATERPROOFING also celebrates the key role that workmanship and quality play in the performance of waterproofing systems. Master Builders Solutions waterproofing systems – the MasterSeal family of solutions - are always installed by the best specialists, combining outstanding technology with excellence in application.
One example of a master installer, with a track record of over 30 years, is AZUL CONSTRUCCIÓN REPAIR, which was founded in 1988 in Seville (Spain). Its special repair, reinforcement, waterproofing and concrete protection works have set a high bar for the industry.
Since its beginnings, AZUL CONSTRUCCION has worked on over 2,000 projects, initially in its home country of Spain, and then expanding into other countries in Europe, Latin America, Asia and Africa.
We interviewed its CEO and founder Manuel Díaz to find out about the company, its ethos and its expertise.
How was AZUL CONSTRUCCIÓN founded?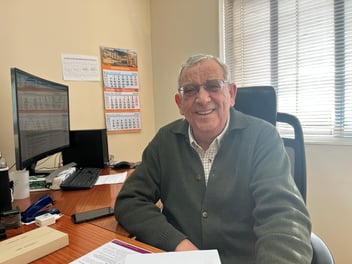 "AZUL CONSTRUCCIÓN was created with a lot of love and enthusiasm. We started from scratch and spent a lot of effort shaping AZUL as a specialist. It was a hard but exciting period.
34 years later, with our goals and values intact, and with an in-house technical team and highly qualified workers, AZUL is a renowned specialist in concrete repair and reinforcement. Quality and responsibility always dominate so that we can achieve the final objective: the durability of the repair and the satisfaction of the client."
AZUL CONSTRUCCIÓN is one of the oldest companies specialised in the application of Master Builders Solutions products. When did you start using our products?
"Since the birth of AZUL, Master Builders Solutions (formerly BASF, and originally BETTOR) has been our ally. Through their technicians, we have received constant support, training and a wide range of products that are essential for the good results we achieve. AZUL has always remained loyal to Master Builders Solutions, where mutual trust and support has been constant. AZUL was one of the founder members of the DIR Association of certified applicators in Spain."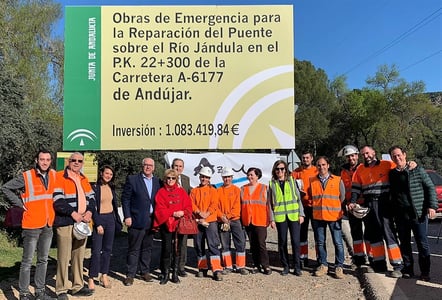 You now have a technical and site team of more than 50 highly-trained specialists. Can you say how the social commitment of your company has shaped this team?
"An essential philosophy of AZUL and the whole team is that all our activities are underlined by social responsibility, with the creation of specialised employment a priority, as well as recruiting people at risk of social exclusion into the company's teams. Our employment, training and stability plan aims to help include people who have skills, but who also have difficulties, into society."
Going deeper into his areas of specialisation, Manuel Díaz tells us that AZUL CONSTRUCCIÓN focuses on:
• "Repair and reinforcement of concrete structures, tunnels and mixed structures in civil works. Special waterproofing and maintenance work.
• Repair and maintenance of dams, drinking water treatment plants (DWTP), wastewater treatment plants (WWTP) and hydraulic works in general.
• Repair and upgrading of maritime works.
• Industrial structures.
• Grouting techniques in wind foundations.
• Replacement of bridge bearings.
• Post-tensioning reinforcement techniques.
• Auscultation of structures and risk analysis"
AZUL is particularly active in the water management sector, in both large infrastructures such as dams and aqueducts and in wastewater treatment facilities where repair, waterproofing and protection work often have to be combined. What are your views on the water management sector?
"It is a market with a great future which is continuously expanding, and which must analyse, conserve and strengthen all its structures in order to respond to increasingly scarce water resources and, at the same time, to be environmentally sustainable."
WASTEWATER WIZARDS: AZUL's notable wastewater refurbishment and reinforcement projects include the la Minilla dam, ETAP Carambolo, EDAR El Atabal (see attached picture) or big water reservoirs like Conquero (Aguas de Huelva), Alcalá del Rio, Entronque (EMASESA Sevilla), Cerrillo and Lebrija (Huesna).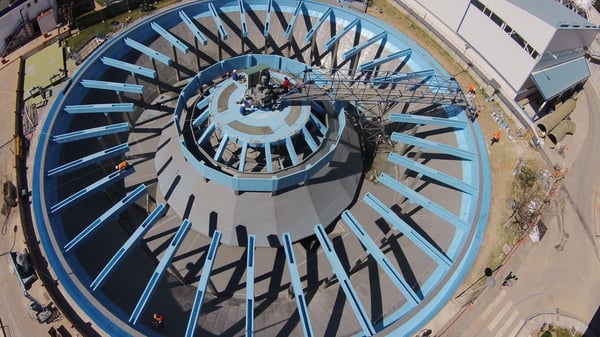 You have investigated over 200 structures of various types, some built in the 1960s and 1970s. What have you observed?
"Unfortunately, in Spain, conservation and maintenance criteria have been very lax and owners have only intervened when the structures were at real risk. In recent years, fortunately, this trend is changing, and projects are beginning to be developed for the inspection of structures in order to define repair and maintenance criteria.
Repair needs are significant and sometimes require emergency treatment. What is vital is to know the structure, to listen to it in order to detect the root of the problems and to carry out repair and conservation work with all the guarantees and durability required."
LONG-LASTING REPAIRS: AZUL repaired the Chapina Bridge (Seville, Spain) more than 30 years ago with the first polymer-modified mortars and epoxy bonding layers Recently, a structural inspection revealed its condition: "It is as well preserved as it was on the day we finished it," says Díaz.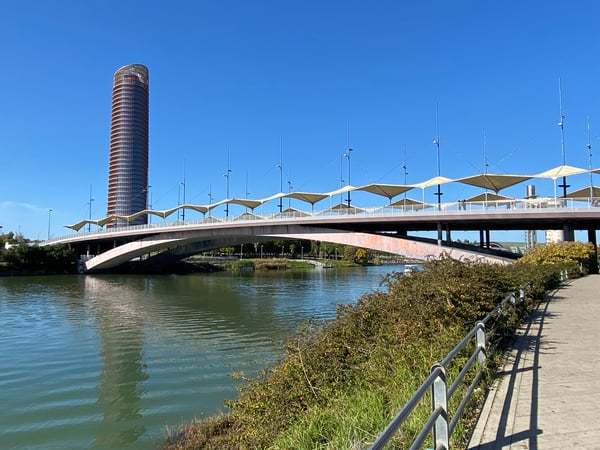 GOING DIGITAL: AZUL CONTRUCCIÓN is committed to introducing new technologies into its daily activities. These include 3D scanners, special probes, aerial and aquatic inspection drones, and ultrasound equipment, which are vital for the inspection and diagnosis of concrete pathologies.
Thank you to AZUL CONSTRUCCIÓN for the many years of collaboration and a special thanks to Manuel Díaz for helping us with this interview.
More information about AZUL CONSTRUCCIÓN REPAIR: www.azulconstruccion.com
More information about MASTERING WATERPROOFING campaign: https://waterproofing.master-builders-solutions.com/