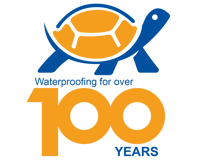 Master Builders Solutions is launching its MASTERING WATERPROOFING campaign on March 1st to celebrate over 100 years of waterproofing expertise.
The campaign uses the image of a turtle because, just as its shell protects the turtle from the weather and predators, so Master Builders Solutions' waterproofing systems protect buildings and structures from environmental, chemical, mechanical and physical attack. As a result, both turtles and buildings can have very long lives – over 100 years!
A 100-year track record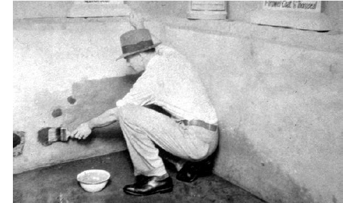 Since the foundation of Master Builders Inc. in Cleveland in 1909 and Standard Dry Wall Products in Pennsylvania in 1912, waterproofing products based on pre-dosed ingredients have been used to protect structures from humidity and water leakages.
In 1912, Edward Canon, an engineer from Pennsylvania did a revolutionary simple action: he waterproofed cellar walls using a mixture studied in his laboratory where all ingredients were pre-established. Standard Dry Wall Products was born and soon, the production of a new generation of premixed products based on cementitious binders was started.
Over the past few decades, Master Builders Solutions has reinforced this approach and brought onto the market innovations that have impacted the construction chemicals sector, like most recently, the new Xolutec™ technology.
We always strive to be the best-connected partner, enabling expert users of construction chemical solutions to master their challenges.
Diverse applications
MasterSeal systems have been successfully used on a diverse range of structures from roofs to cellars in buildings, on surfaces exposed to abrasion and impacts such as car parks, and in industrial environments where chemical resistance is needed. They have also been used across the whole water cycle, from membranes approved for contact with drinking water to systems developed to withstand biological impact in wastewater treatment plants.
To learn more about effective methods for the repair and protection of concrete in wastewater treatment plants, click below to sign up for our webinar in English and in Spanish:
Sustainable structures
MasterSeal waterproofing membranes enhance the durability – and extend the lifetimes - of buildings and structures by preventing their deterioration due to chemical and physical action of water. They are also a vital component of systems that contribute to the generation of clean energy, such as wind turbines or biogas digesters and those that recycle water, both urban and industrial, reducing pollution and the extraction of natural resources.
In addition, the current Master Builders Solutions portfolio of class-leading products for the construction industry embodies a common principle: increased resource efficiency which allows significant cost savings and a reduced environmental footprint. These benefits of advanced chemistry are proven by acknowledged measurement tools – we call this approach: Quantified Sustainable Benefits.
Product highlights
MasterSeal 7000 CR is based on the exclusive XolutecTM technology developed by Master Builders Solutions and combines a unique set of properties that, until now, were all but mutually exclusive – e.g. on the one hand, the resistance to the adverse chemical environment in wastewater-treatment systems and, on the other, highly effective crack-bridging properties.

MasterSeal 6100 FX is a highly durable elastic membrane that retains its crack-bridging properties in a wide variety of demanding conditions, extending the service life of the concrete structure and reducing maintenance and repair requirements. The result: lower costs, as well as a marked reduction in environmental impact.
MASTERING WATERPROOFING also highlights the key role that workmanship and quality play in the performance of waterproofing systems. Master Builders Solutions waterproofing systems – the MasterSeal family of solutions - are always installed by the best specialists, combining outstanding technology with excellence in the application as we can see in the few examples on the pictures below:
More information about MasterSeal solutions as well as various waterproofing topics can be found under waterproofing.master-builders-solutions.com