According to the Global Wind Energy Council (GWEC), the next decade is make or break in getting all of us on track to reach net zero emissions by 2050 – and offshore wind has a crucial role to play to achieve the global energy transition. Offshore wind's potential is largely untapped so far whereas there is enough offshore wind resource worldwide to meet today's entire global electricity demand 18 times over. Different institutions recognize the importance of offshore wind and call for at least 2000 GW of offshore wind deployed by 2050 to maintain a 1.5°C warming pathway, up from currently 35 GW, hence it's clear that scaling up needs to happen quickly.
Europe's role in global offshore wind expansion
As the international leader in offshore wind, Europe can make a huge difference in the drive to achieve net zero emissions. In Europe, an extra 2.9 GW of offshore capacity added in 2020 brings the continent's total installed offshore wind capacity to 25 GW, comprising 5402 grid-connected wind turbines spanning 12 countries.
The European Commission's ambition is to generate 230-450 GW through offshore wind by 2050. With such stretching targets to meet, the size of turbines needs to grow. Ensuring that larger turbines can be safely installed for a long service life is increasingly important as the industry prepares to enter a new phase of rapid growth. Meeting the technical challenges of offshore installation has never been more critical – and that's where our new grout comes into play.
T
h
e

right grout for offshore wind turbines
Master Builders Solutions is already ahead of the curve in adding the innovative grout MasterFlow 9650 to its portfolio. This highly specialized offshore grout is the very first material that is certified for load-carrying rock-socket grouted connections.
Type Approval Certification (TAC) from DNV for our latest grouting innovation means that subsoil grouting works can be planned without the need to go through lengthy and uncertain project-specific technical qualifications.
Specifications for rock socket grouting in the offshore wind industry pay particular attention to grout material performance levels over and above that achievable with basic Ordinary Portland Cement.
Risk management is key in offshore construction, and this combined with such grouting specifications, explain the need for a volume stable, rapid strength gain, bulk supplied grout product. MasterFlow 9650 has been designed with this application in mind and offers unparalleled performance in precisely the areas of utmost importance for offshore wind industry rock socket grouting scopes.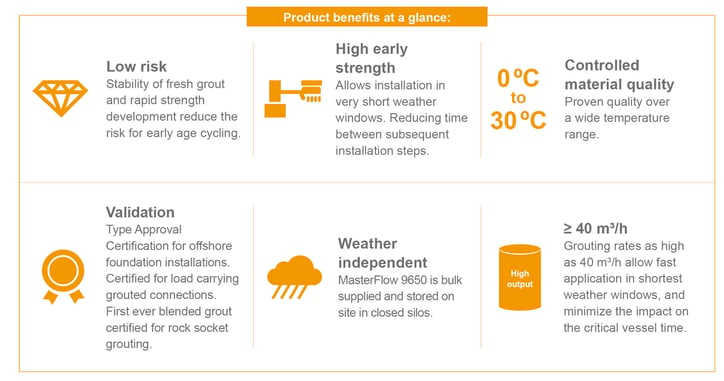 Where to use MasterFlow 9650?
MasterFlow 9650 is designed for large-scale pump applications in the offshore construction of wind turbine foundations or oil and gas installations. It can be used in very harsh conditions at temperatures as low as 0°C.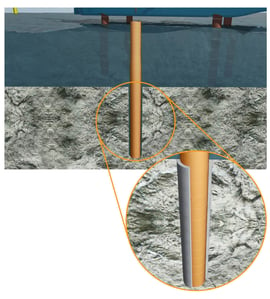 MasterFlow 9650 is ideal for use where rapid strength development is required, and where working in the shortest weather windows is essential for a safe but cost-optimized installation. It combines excellent strength gain with high ultimate compressive strength, even at cold temperatures. The material's excellent flow and pumping properties reduce installation times and costs, and with the latest equipment technology, installation rates of ≥ 50 m³/h are feasible.
Thanks to MasterFlow 9650, for the first time, rock-socket grouting can be carried out with a DNV-approved, blended grout material. The grout's first live applications are major offshore projects in French and Scottish waters in 2021, with many more exciting projects ahead!
You can find out more about MasterFlow 9650 here.