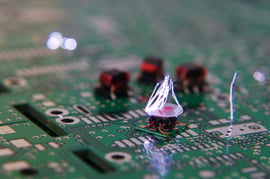 Static electricity has been around us forever, though we did not always notice it. The impact of static discharge, however, has risen from a paper to stick to your body to a severe safety and production issue. Already in earlier times static made conveyor belts stop or powders like flour ignite, but in today's industries, thanks to the increased use of electronic components, the impact of electrostatic discharge is far more harmful. With the rise of smart technology and the Internet of Things, electronic sensors and devices get smaller and smaller while at the same time containing more circuits to handle ever more complex automation. On the one hand, this puts the products themselves more at risk of electrostatic discharge. On the other hand, dealing with such sensitive products has an effect on the production environment and the people working in them.
Ensuring safe operation is key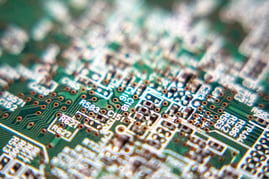 In general, every industry where people are moving and machinery is running has to deal with antistatic and electrostatic discharge (ESD). Particularly in the electronics industry and industries working with microchips and other IT components protecting both people and equipment against any harm from ESD is of utmost importance. First, because the safety of the workforce is the number one priority. Second, because the productivity is at risk: damaged goods and production downtime can lead to financial losses. The ESD association states, "The cost of ESD-damaged electronic devices alone ranges from only a few cents for a simple diode to several hundred dollars for complex hybrids. Loss of production time in web processing industries due to static attraction is significant.
When associated costs of repair and rework, shipping, labor, and overhead are included, opportunities must be considered for significant improvements in reducing losses to ESD and static electricity.". Further industry experts estimate that about 33% of product losses in the electronics industry are caused by ESD. This underlines the impact of ESD on product losses, though the direct source for product failures cannot always be identified. The damage to an ESD device can be either latent, which means the defect is not detected, or permanent, so the device is waste.
Being aware of the impact of ESD on productivity, down time, maintenance, supply chain and the workforce is a first step for OEMs to address the issue in a proper way.
How flooring helps control static electricity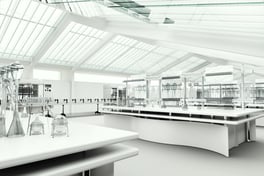 As explained in our blog "How does flooring from Master Builders Solutions help to control static discharge and its effects?" flooring plays a critical role to maintain safety and productivity in factories. Conductive flooring solutions prevent the build-up of antistatic and electrostatic energy on the surface and allow dissipation through the floor. This, in turn, makes the environment safe for workers and vehicles to move around. Consequently, the risk for electronic components to suffer from any damage from unwanted electrostatic discharge is minimized. Therefore, choosing the appropriate characteristics of a floor influences the efficiency of a factory, clean room or laboratory.
In the last 20 years many customers from various industries have applied antistatic and ESD flooring solutions from Master Builders Solutions to avoid any negative effects of static on their workforce or output. In our blog "Antistatic and ESD floors, what do the experts say?" we collected some feedback to make sure our support is always up-to-date.
To meet the requirements of various industries, industrial flooring solutions offer various characteristics. In addition to resistance to slips, wear, chemicals or temperatures the control of electrical behaviour plays a critical role, particularly for the electronics or automotive industry. Antistatic and ESD floors avoid the accumulation of static on the floor surface, while at the same time protecting against static discharge by dissipating the related energy through the floor. Depending on the industry, application and the related sensitivity of devices, the MasterTop and Ucrete flooring portfolio of Master Builders Solutions protect against any harm from antistatic or electrostatic electricity.
Prepared for the future
With digitalization and connectivity gaining more and more momentum, the need for even faster and smaller electronic components will also gain speed. New guidelines for electrostatic overstress (EOS) and ESD were introduced in 2020, but the most critical element is still the appropriate grounding. Therefore, please take care of the required antistatic and electrostatic requirements to keep your production running!
Within the Master Builders Solutions you can find floors corresponding to any requirements of your application. Our broad MasterTop and Ucrete portfolio includes resin-based flooring solutions with protection against antistatic and electrostatic discharge, resistance to chemicals, temperatures and thermal shocks, as well as slip and scratch resistance, ensuring the safety of your work force and the productivity of your plant. A case we are specifically proud of is the safe workspace at Lantegi Batuak, a social inclusion organization employing adults with physical disabilities and learning difficulties: at several locations our MasterTop antistatic floors protect people against any harm from antistatics. Read the complete story via this link.