5 successful cases of negative-side waterproofing using MasterSeal P 770 and MasterSeal P 385 primers
The first choice for waterproofing a structure is always on its positive side, as this avoids external water to come into contact with the concrete, keeping it dry. Where that is not possible, negative-side waterproofing can achieve the goal of keeping the inside space of the structure dry but obviously leaves the concrete walls and floors exposed to humidity and water penetration.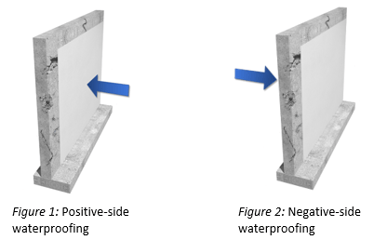 Below are five cases where negative-side waterproofing was successfully used, involving different types of tanks and cisterns, all located below ground and exposed to humidity from the surrounding soil. Some of them were even renovated after other systems had failed, demonstrating the presence and potential effect of groundwater.
The tanks featured contain a variety of liquids: wine, drinking water, water contaminated by chemicals and wastewater. Depending on the use, MasterSeal P 770 or MasterSeal P 385 primer was applied in combination with different membranes: MasterSeal M 391 for drinking water and foodstuff, MasterSeal M 790 (as part of the MasterSeal 7000 CR system) for wastewater and aggressive chemicals. Additionally, special solutions and detailing were implemented for wall-to-wall and wall-to-floor connections and for movement joints, if present.
Waterproofing of in-ground tanks and cisterns
A negative-side application of the waterproofing membrane is often the only possible solution to coat the inside face of in-ground tanks sealing their contents and, at the same time, preventing water intrusion from the soil.
But the solutions selected, and specially the primers used, must fulfil the following characteristics
Very high adhesion to concrete:
if

negative water pressure develops, the adhesion of the membrane to the concrete will be the force that ensures stability of the membrane and prevents debonding.

Very high adhesion to humid concrete

: contact with soil will usually mean that there is some degree of humidity in the concrete, which can be even higher if the tank has contained water. With limited ventilation, even drying with forced methods would be a lengthy process, delaying the completion of the job and the return to service of the tank.

Resistance to negative water pressure:

if the structure is below the water table or if there is regular seepage of water around it, pressure can develop. Resistance to this negative pressure is necessary, not only to maintain membrane performance but also to prevent water intrusion inside the cistern.

Resistance to osmotic pressure:

unlike blisters due to negative water pressure or water vapor trapped within the concrete, blisters due to osmotic pressure will only appear several months after the application. The development and extent of osmotic pressure is uncertain, but even so, the resistance of the system against osmotic blistering will be always necessary
Equally important, the membrane in contact with the liquid in the tank must be suitable, in accordance with local and/or European regulations, for this liquid, whether drinking water, foodstuff or contaminated water.
And finally, the application in poorly ventilated areas will require adequate protection measures for the works, with installers benefitting from the use of low emission materials.
In the table below, the key technical properties of MasterSeal P 770 and MasterSeal P 385 are summarized:
Key properties

MasterSeal P 385 (ABC)

Adhesion to dry concrete
(EN 1542):

≥ 4 N/mm²

≥ 3.8 N/mm²

Adhesion to wet concrete
(EN 13578):

≥ 2 N/mm2

≥ 3.0 N/mm²

Resist. to negative water pressure:

1 bar (for 374 days).

2.5 bar

Test moisture soaking from the
rear side (DAfStb-4; 5.5.15):

> 3 N/mm²

> 3 N/mm²

No blistering, no debonding

No blistering, no debonding

Application thickness:

0,25 to 0,35 mm
1 layer 250 to 400 g/m²

approx. 1 mm
2 layers of 750 g/m²

Re-coating interval (20ºC):

After 5 hours

After 48 hours
Success in action
Case #1: Retention tank for wastewater in a meat processing factory
This tank is used to store factory process water with a pH below 2 and a contact temperature of approx. 45ºC. The concrete was severely damaged, and the tank had a lot of leakages.
The job, completed in 2019, included repairing the existing concrete, which had a low compressive strength, with MasterEmaco S 5300 (low modulus repair mortar, class R3 according to EN 1504-3) and waterproofing with MasterSeal 7000 CR (MasterSeal P 770 and MasterSeal M 790).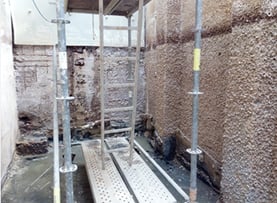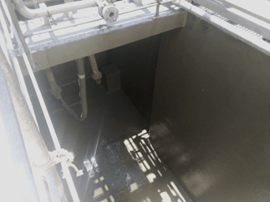 Case #2: Cooling water tank in an automotive factory
This tank contains water at 25 – 30ºC, used as cooling water in an industrial process. The water contains some biocides and anticorrosion additives. The job comprised MasterSeal P 770 primer applied on the substrate finished with the MasterSeal M 790 membrane, completing the MasterSeal 7000 CR system.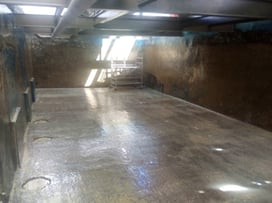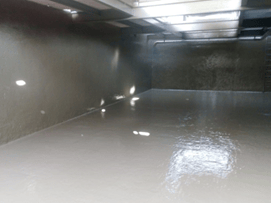 Case #3: Chemical Interceptor tanks
In this case, ground water ingress had forced the existing HDPE tank linings away from the walls. The concrete had to be relevelled and protected with a chemically resistant coating.
The solution included levelling of the substrate with MasterSeal 586, coating with MasterSeal P 770 and finishing waterproofing layer with MasterSeal M 790, again completing the MasterSeal 7000 CR system.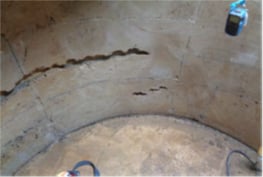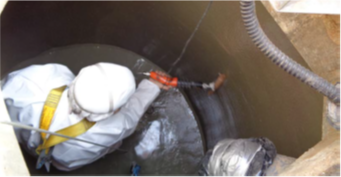 Case #4: Wine tanks
This was a below-ground concrete tank for wine. The objective was to contain the wine without contamination due to water infiltration from the soil. The membrane had to have the necessary approvals for foodstuff.
The solution, completed in 2020, was achieved by the internal application of MasterSeal P 770 (primer) and MasterSeal M 391 yellow (waterproofing membrane).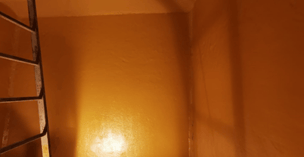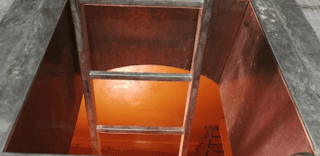 Case #5: Drinking water tanks
The tanks are used to contain drinking water so the main requirement for the membrane was that it should not transmit any substances to the water that could contaminate it. European regulations and strict national regulations were fulfilled by using the membrane MasterSeal M 391. MasterSeal P 385 was used as primer.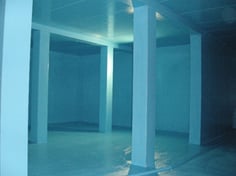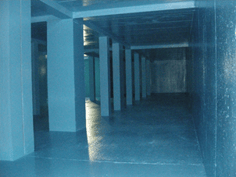 The examples described show successful applications of membranes that waterproofed tanks, avoiding contamination of their contents by water infiltration.
In all of them, specific primers were used: MasterSeal P 770 and MasterSeal P 385 ensured high adhesion on humid substrates, resistance to negative water pressure and high resistance to osmotic blistering.