Posted by Vanja Landeck - 12 September, 2019
Find out how the experts from Master Builders Solutions provided a pristine setting for one artist at one of the world's most prestigious exhibitions of contemporary art – the Venice Biennale...
About La Biennale di Venezia
The Venice Biennale – an international art exhibition held bi-annually during odd-numbered years – is an illustrious event with a history dating back to 1895. Today, it integrates other art forms too, with the Biennale Architettura taking place on alternate years to the Biennale Arte. The term 'Biennale', or 'Biennial' in English, is now used as a generic name for bi-annual art exhibitions and festivals everywhere.
The Austrian pavilion's concept
The Venice Biennale's original purpose-built national pavilions in the Giardini park complex are still in use today. This year, the Austrian pavilion features an installation by avant-garde artist Renate Bertlmann, entitled Discordo Ergo Sum, which can be translated as 'I dissent, therefore I am.'
Bertlmann's exhibition combines old and new works. Inside, large black-and-white posters showcase her ideas and work from the 1970s and 1980s. Outside, the central courtyard features a regimented display of 'knife roses' – glass-headed red flowers skewered by stems of slender sword blades – creating a conceptual and precise space in which to think.
Pavilion designer Studio VlayStreeruwitz wanted to achieve continuity of materials and colors to give a seamless effect across the different surfaces against which the art was to be viewed, from the interior to the exterior.
Bringing the space to life
Working with the client to understand their needs and devise the perfect system to complement Bertlmann's art, the BASF technical team was able to create a tailormade flooring and wall system to match the artist's request.
During the application process, BASF supported the contractor in achieving a completely uniform surface in the chosen color, with, no junctions or need for grouts. The extremely high cleanability of the floor ensured that surfaces would remain immaculate throughout the Biennale.
A high-performance system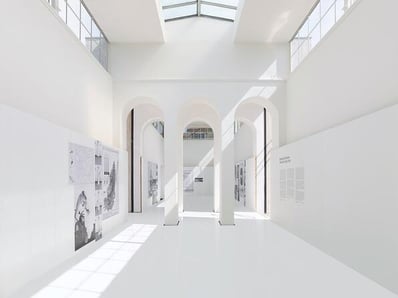 For the installation, resilient crack-bridging system MasterTop 1324 provided the solution. This scratch-resistant system is renowned for its performance: not only is it decorative, but it also protects against wear, dirt, penetration of liquids and impact. Safe and colorful, as with all MasterTop systems, MasterTop 1324 offers a limitless range of colors for complete creative freedom.
An environmentally friendly choice
MasterTop 1300 systems are environmentally friendly, too: recognized for their sustainability by DGNB, they have an A+ BREEAM rating from the Building Research Establishment (BRE), based on a whole-lifecycle assessment, and meet AgBB's stringent regulations. Systems are solvent-free and comply with low emission standards including AFSSET and VOC.
Spectacular results
Working against time constraints, weather conditions and the need to carry out several tasks simultaneously, uniform, flat surfaces were achieved on panels of phenolic plywood and MDF across the Austrian pavilion's walls and floors. The result: a bright white finish that contrasted brilliantly with Bertlmann's installation!
Read more about Bertlmann's work at this year's Biennale here.
If you are interested in our MasterTop floor or wall systems, take a look into our brochure!
Visit our website to learn more about the whole Master Builders Solutions product range: https://www.master-builders-solutions.basf.com/en-basf
Credits for all images: Installation view: Austrian Pavilion, Biennale Arte 2019 © Renate Bertlmann Photo: Sophie Thun