In the global onshore wind turbine business, expertise, experience, and trust are of enormous importance for long-term success. Above all, it is about people, partnerships and close cooperation between the many parties involved in a wind farm project and our onshore experts at Master Builders Solutions are fully aware of this. That is why we place great emphasis on regular meetings with our various business partners and customers for trainings, the exchange of ideas and on-site material testing. Our onshore team has lately travelled to Seville in Spain, and we accompanied them for a week to give you an insight into what is involved.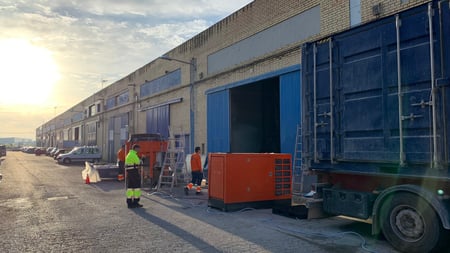 Experts meeting experts for joint product tests and trials
On a sunny morning in Seville, the onshore wind experts from Master Builders Solutions were on their way to a meeting to test and certify new grouts for use in onshore wind turbines.
They have learned from their many years of experience that the development and safe use of new products very much depends on cooperation and a good relationship with the main stakeholders involved in onshore wind projects. These stakeholders are typically customers, investors, the so-called "OEMs" or "Original Equipment Manufacturers," applicators and finally materials manufacturers or suppliers to which we, as Master Builders Solutions belong.
Once they arrived, our onshore expert team met with the respective OEMs and the applicators from Azul Construcción - a specialized team of certified applicators responsible for the inspection, installation, and maintenance of wind farms around the world who we have reliably worked with for many years now.
The pre-testing was carried out throughout the whole week and is of immense importance for product safety reasons because the exact behavior of the grouting material must be known before it can be placed on the market. A further aspect was the certification of the products to prove that the quality, safety, and performance of the solutions we offer fully meet the specific requirements of our customers. Especially, the strict criteria on flow behavior during the application over time, compressive strength at early and final stage, possible application temperature and thickness must be met to ensure long-time durability and full reliability of the assets.
Of course, the technical details of this innovative onshore grouting material will still remain under wraps as the market launch of the products has not yet taken place but this much we can reveal: All the trials were successfully concluded with positive feedback from all the experts involved.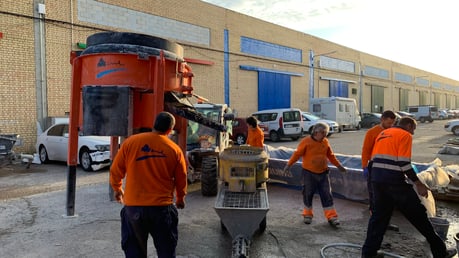 The Azul team making the preparations prior to pumping, using a mixed approach, big mixer, and normal pump machine.
Close cooperation is key to the long-term success in the business
The week not only ended with very successful trials, but with another confirmation about long-term partnerships as the key to generating a successful business together. We at Master Builders Solutions have always strive to make our extensive experience in the industry fully available to our customers. A big Thank You to our partners from Azul Construcción, especially to Manolo Diaz, and José for making this possible and for their trust in our materials.