Solutions and experiences from Master Builders Solutions
"…infrastructure cannot be taken for granted and the world needs to overcome the environmental damage faced by using concrete to avoid the problem of aging infrastructure and to increase durability…"
from the blog post: The urgency of aging infrastructure in our smart and urbanized world
Dams are one of the most imposing pieces of infrastructure built by humans. Used for flood control, water supply, irrigation, navigation and hydropower generation, they can bring significant benefits to communities and society. However, it should be acknowledged that dams increasingly cause environmental concerns to some.
Hydropower represents more than 40% of total renewable energy in Europe
One of the main purposes of dams in Europe is for hydropower plants; to create a head of water that is stored for use when required. Hydropower relies on the kinetic energy of water to generate electricity, avoiding the need to burn fuel which leads to harmful emissions. It is considered one of the greenest renewable energies.
According to the International Renewable Energy Agency (IRENA), despite the reduction in costs of other sources of energy, hydropower still has the lowest Levelized Cost of Energy (LCOE) amongst the different forms of renewable energy.
Due to all these benefits, hydropower accounts for more than 40% of renewable energy sources in Europe. In some countries, such as Norway, Iceland or Russia, it represents more than 90% of total renewable energy production.
In Europe, there are more than 6,000 large dams
Source: Statista, 2021
According to the International Commission on Large Dams (ICOLD) there are currently more than 6,000 large dams in Europe. A large dam is defined as one that measures 15 metres or more from its lowest foundation to its crest, or a dam between 5 metres and 15 metres high which impounds more than 3 million cubic metres.
European dams were mainly built in the 1960s and the 1970s and, except for in Eastern Europe and Turkey, new construction has virtually ceased.
This means that most European dams have an average age of around 50 years or more. Around 10% of large European dams are over 100 years old. Given their age, these dams will require rapidly raising maintenance regimes to avoid a decline in their effectiveness and, more importantly, to prevent potential threats to human safety and to the environment.
As we have seen in our blog "Waterproofing concrete - the simple way to reduce the environmental impact of buildings and concrete structures", restoration, including repair, protection and waterproofing, is the most sustainable strategy for existing concrete structures as demolition and eventual re-construction result in a much worse environmental impact.
In the case of dams for hydropower generation, loss of performance or deconstruction are not feasible options, unless alternative and economically viable solutions for green energy production are found.
Refurbishing aging dams: solutions and experiences
Master Builders Solutions has a complete portfolio of products suitable for dam refurbishment as well as extensive experience in this field: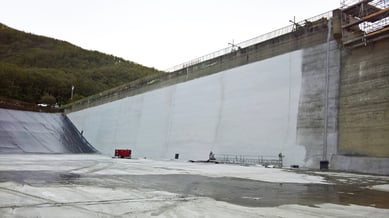 Horcajo Dam (Cáceres, Spain)
Waterproofing and repair of a dam completed in 2017 including low modulus structural repair mortar (MasterEmaco S 5300) and waterproofing with lightweight cementitious membrane MasterSeal 6100 FX applied on a surface of approx. 3000 m2.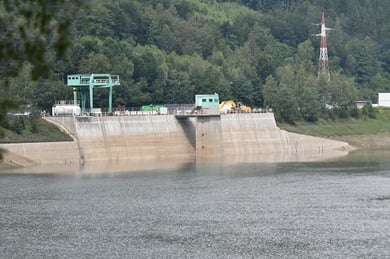 Hydropower station Coo-Trois-Ponts​ (Liège, Belgium)
Surface refurbishment and concrete protection with MasterEmaco N 5100 FC applied on a surface of approx. 8,000 m2.
There are also over 40 other examples of dam and hydropower refurbishment projects in the Water Management Industry job reference database including repair, waterproofing and other works.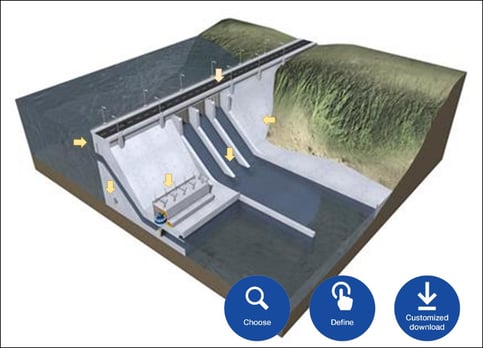 And finally, the "Hydropower plants" scenario in the Online Planning Tool by Master Builders Solutions can be used to obtain specific guidance to define the necessary materials for conducting the repair and maintenance works needed for the crest, the upstream and downstream faces of the dams, and other parts of the structure like the galleries or the spillways adjusted to each project.
Just by following 3 easy steps, a complete and customized specification report can be generated, including all related product documentation, such as datasheets, certificates and BIM objects.
More information about the systems and experiences of Master Builders Solutions for dams and hydropower plants can be found via the links below: